Sterling Heights will start to 'eat mor chikin'
Many Americans eat fast food on a regular basis. However, there are select restaurants that have exclusive locations. One of those "exclusives" is Chick-Fil-a, which originally was mainly in the west, but has slowly started to branch off across the whole U.S.
Up in the mid-west there are few of these chicken based restaurants, but that is now changing as a Chick-Fil-A is to go under construction off of Hall Road on Schoenherr.
"Chick-Fil-A is one of my favorite restaurant to go to," senior Brianna Karas said. "But I only get to go there when I drive down west and I'm so excited to have one close to home."
The closest Chick-Fil-A to the school currently is the one located on Oakland University's campus.
In an interview with Nick Monacelli from Channel 4, Chick-Fil-A released this statement. "Chick-Fil-A is always looking for new locations to continue serving our customers, and we're happy to share that we are pursuing expansion into Shelby Township, Michigan. While we are still early in the permitting phase, we look forward to working through approvals with the city and meeting with our future neighbors to understand how we can best serve the area."
Many people are excited for the new Chick-Fil-A to be built and there are many that are even more happy that It's to be built across from the new Krispy Kreme off Schoenherr.
"I've only had Chick-Fil-A a few times but I remember it being really good," junior Ashley Siluk said. "I'm excited to try it again whenever it is built."
Chick-Fil-A serves breakfast food and lunch/dinner foods that only have chicken. Though they only serve chicken, they still have a lot of options. These options range from a chicken sandwich to even salads.
"Every time my family and I go on vacation we get Chick-Fil-A," senior Tyler Seib said. "My favorite thing there is the chicken nuggets, they slap."
Chick-Fil-A has also recently started to explore vegan and vegetarian options; trying to push them to sale. They are doing this to reach to a wider market and to bring some healthy options to their chicken-based menu.
There are other Chick-Fil-A restaurants located in the state, but none of these are close to Utica. There is no time frame on when the fast food chain will start to be built, let alone being up and running.
"I'm very excited for Chick-Fil-A to be built near us," teacher Clayton Sumner said. "They have the best chicken sandwiches and It's easily one of my favorite fast food joints."
Many students currently look towards enjoying Chick-fil-A.
" I love Chick-Fil-A," junior Joshua Roussos said. "I used to live in Virginia and go there all the time."
Restaurants and stores have been popping up left and right on Hall Road and it has been under construction for a long time. The new Chick-Fil-A will be located directly across from Krispy Kreme. The city is hoping that these changes will being in more people and even tourists.
About the Writer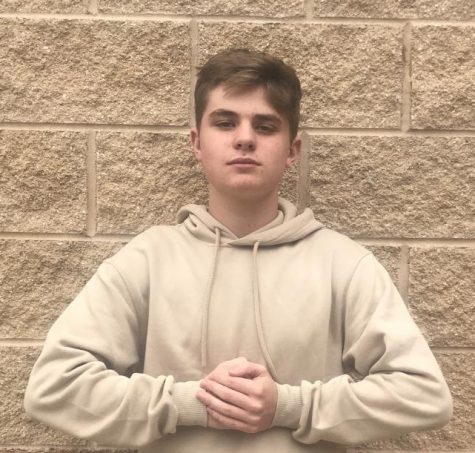 Evan Gray, Online Editor and Business Manager
Evan Gray is a Senior this year and this is his third year on staff. He loves newspaper so much because he is so good at it. He is also a huge football...