Clay target team is a hit with athletes
In 2018, Utica Community Schools approved clay target to join its athletic list, and with over 40 athletes, it is quickly becoming one of Utica's fastest growing sports. Coached by Mark Kosanke, weekly practices and shooting rounds take place in Washington Township.
Along with the large amount of Utica High athletes who have joined, a few members of the team are from district school Henry Ford II. Additionally, the team practices and shoots with two other high schools: Romeo and Eisenhower. During the season, many have become friends, and see the team as a fun and rewarding sport.
"It's really fun being in it with your friends because it adds to the feel of competition," sophomore Kadia Kustarz said. "Anyone who is willing to put in the work and dedication is welcome, as there were no cuts for the team. You don't even need a firearm or experience to join."
Many participants who have never shot a gun before have been able to compete in the state championship and even place high in the ranks.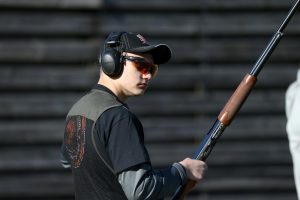 "I think in order to succeed on the team you need to be brave and confident," sophomore Annie Grzeszczak said. "I wanted to join the team because I grew up kind of country, so shooting guns is fun."
The team meets at North Macomb Sportsmen's Club, and fires 50 rounds per session, learning as they go. The season runs from late March to May.
"All grades, freshmen through senior, are welcome. I've been in clay target all three years," senior Liam Betthauser said. "The state tournament was fun because it felt like any other meet."
Every year in early June, students are able to take part in the State Tournament, located south of Lansing in Mason, Michigan. This year, 20 athletes will compete at the state competition. The team is currently placed fourth in their division.
Known as a sport in which once learned, you will never forget how to do, there are many people who continue to practice and play through their entire lives.
"We have members at our club who are over 90 years old and still shooing," Kosanke said.
The clay target team program has never had any sort of accident and has been declared one of the safest sports. It is a sport solely based on skill, rather than athleticism, which means everyone has the opportunity to compete at a master level.
Originated in the 1830s, Clay Target started as a new throwing mechanism that used glass balls filled with feathers. This was invented as a way for people to practice their shooting skills before going into the fields.
The publics piqued interest in this resulted in a British Open Champion in 1927, some 70 years after it was introduced in Europe.