Battle of the pizza parlors
Local pizza places were taste-tested to see which pie claims victory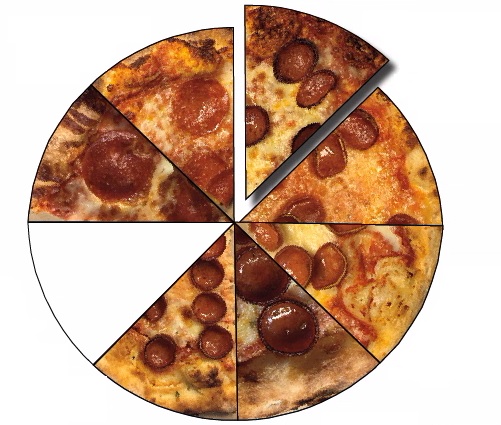 Cheese, pepperoni and dough; the perfect marriage of ingredients for one of the most popular combinations of all time: pizza. Pizza can be a quick dinner or a delicacy in a box.
When it comes to pizza, different places create their own version of the dish. Some versions taste better than others but no parlor has claimed victory for being the best.
The Arrow Staff decided to put the pies to a test for pizza domination. Seven different popular places were surveyed and each pizza had a different result.
Pizza Nostalgia, Cloverleaf, 900 Degrees, MOD, Green Lantern, Toarmina's and Buscemi's were all of the contenders.
Toarmina's, the first opponent, donated two round pepperoni pizzas for our staff to sample. It became aware that judging would not be easy in this competition.
"My favorite pizza we tried was Toarmina's Pizza," junior Dominic Lount said. "I may have a little bias because I worked there, but the blend of different cheeses and good dough makes it, in my opinion, an all around tasty pizza."
The local favorite, Buscemi's located off of M-59, was sampled second.
"It's just good ol' pizza; nothing more, nothing less," junior Cameron Smale said.
Pizza Nostalgia, the third opponent, had really cool pizza, the staff found their box to be the show-stopper. The sleek and black cardboard stuck out against the adversaries.
MOD is the build-your-own pizza go-to. There were countless toppings available for their pizzas and customization could be very specific.
900 Degrees also put forth an admirable pie to the competition. The thin crust Italian dough gave a different approach than the rest of the pizzas.
Cloverleaf, the runner-up, delivered a pizza that most of our staff has never had before. It shocked us with flavor and a surprising desire to want more.
Although all pizzas were tough competitors, it was only Green Lantern that became a distinct favorite. With the perfect cheese-to-sauce ratio, the pie was unstoppable. Even though our staff favored Green Lantern, all of the pizzas tasted unique and great in their own way. The perfect pizza is always up for debate, but in room 205 we vote Green Lantern.