What is Pride Month?
June is known as LGBTQ+ Pride month, but why?
Starting on June 1, you've probably seen an increase in rainbow flags on various social media sites. That's because June is known as LGBTQ+ Pride month. It was named this to commemorate the 1969 Stonewall Riots, which is seen as the beginning of the Gay Rights movement.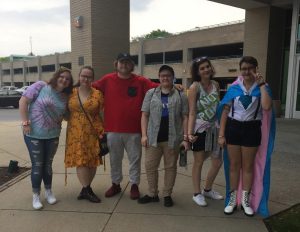 Stonewall was a club, frequented by LGBTQ+ people in a time when it was illegal for them to be themselves openly. On June 28 1969, during a police raid on the establishment, a group of people, led by Marsha P. Johnson and Sylvia Rivera fought back, effectively starting what would evolve into the pride festivals and parades we now know. Unfortunately, they are frequently forgotten when people talk about the history of the Gay Rights movement.
Although people who identify as part of the LGBTQ+ community are much more accepted than they were in 1969, many still find the month of Pride to be an important step in acceptance. Many cities will host festivals and parades to show support for their LGBTQ+ citizens and their families. On June 1, the city of Ferndale had their Pride festival and youth prom at Affirmations, a LGBTQ+ center located in the city.
"When my friends and I were at Pride, we walked around and looked at all the stands and stopped at Affirmations to visit some friends." sophomore Olivia Nordin said. "Affirmations holds a prom every year to have and dance after Pride for teenagers. The theme this year was Scooby-Doo, but we didn't get to go to it. Setting up in previous years was always a blast and the dances are always so much fun."
Affirmations helps to provide support for LGBTQ+ people and their families, through different support groups and community outreach programs. The non-porfit organization also helps to plan Ferndale's Pride Festivals and participate in other local Pride Events.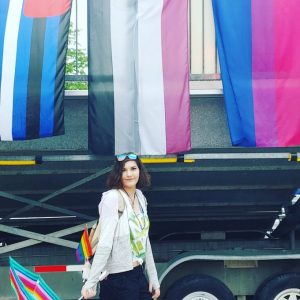 "Pride events help those within the LGBTQ+ community feel affirmed and welcomed, and can show those who are newly coming out that they are not alone. It is a place to be one's true self, even if it can only be for one day or event. Feeling different can be very isolating, but being able to see that there are thousands of others like you – all in the same space – is truly empowering." Ian Unger, Youth and Education Manager at Affirmations, said. "Even with the rain, Ferndale Pride was a success. There were so many individuals that were both returning to pride and veterans of the celebrations, as well as new faces excited to take part. This was also a year where I saw many more young people with supportive parents/guardians at Pride with them, which makes me feel like progress toward overall acceptance is being achieved!"
These events are also a time for education – they allow people to learn more about the LGBTQ+ community, their history, and the people who identify with the community. For some people, it can be a chance to educate their families or others who may not be completely in the loop.
"I took my mom with me to show her more about the community I'm in," sophomore Davan Palmer said. "I think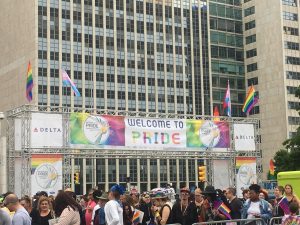 it's important to the community because it shows how far we've come from Pride being a protest to a celebration."
Pride is a time for people to celebrate their identity instead of being ashamed of it. It's a chance for groups of LGBTQ+ people and allies to come together and share in festivities that were denied to them for so long. They're able to celebrate what makes them unique without fear of being rejected or shamed.
"The person playing the game of life creating us all doesn't have a single normal switch that they flick when they create someone, that's too boring," junior Gianna Bratke said. "They have have hundreds because everyone is different."
About the Contributor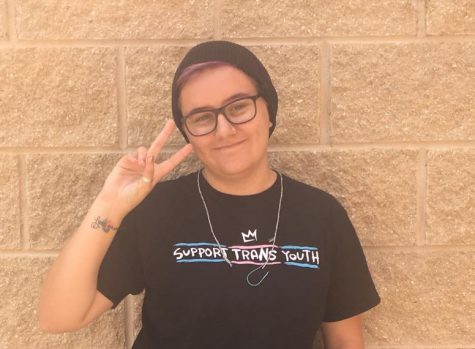 Parker Hopkins, Digital Editor-in-Chief
Parker Hopkins is a senior and this is their third year on the Arrow staff. When they aren't working on the newspaper, they spend a majority of their time...