Utica alumnus comes home to perform new hits
Chasing a lifelong dream may mean sacrifice, patience, or hard work to fulfill a goal. For 2014 alumnus Donovan Andrews, his dream has always been music.
Andrews knew at a young age that he wanted to pursue music, but did not feel ready to go to college after graduating. Instead, he chose to enlist in the Army. While traveling to Afghanistan and fighting in battles, he still stuck with his music.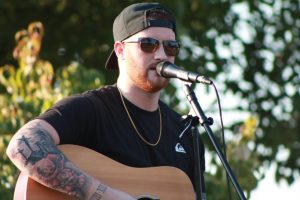 Andrews released his first song, titled "I Hate It", in November of last year, with his second song, "Communication", having been released on July 9. Both songs can be found on his YouTube channel.
Mayor Thom Dionne invited Andrews downtown on more than one occasion to perform. Dionne quickly realized that Andrews had immense talent.
"It's a warming welcome to have Donovan in Utica and performing," Dionne said. "He is like a son of Utica and we are very fortunate to have him. It makes us feel good that he chose to come back home because with the talent that he has, he could go anywhere to perform."
On July 17, Andrews filmed the music video to his newest single, "Let You Go", in Utica's very own auditorium.
"I have a lot of memories here [at Utica]. A lot of good memories, a lot of bad memories," Andrews said. "My most vulnerable state I've ever been in was when I was in high school, so I wanted to bring this vulnerable song that I wrote and put it into this beautiful auditorium that we have, that people don't really know about."
Andrews released the video on July 29, and within hours support was flooding in from friends and fans.
"'This is such an amazing and incredible song,'" fan Victory Lofipo (@victorylofipo)  said via Instagram. "'Seeing you pour your heart into your music/songs is something I don't even know how to describe.'"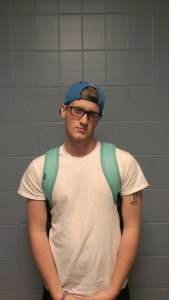 Newspaper and Yearbook advisor Stacy Smale got to know Andrews during his senior year in high school.
"He had been a football player, but he focused on music," Smale said. "He was always nice to everyone and had a diverse group of friends, which I respected. My favorite memory is when he brought in his guitar and played a song in my class."
With a journey through the military, and starting fresh as a musician, Andrews is starting to achieve his dreams.
"I've loved seeing him perform several times," Smale said. "I can't wait to see what he does next."
Andrews' music can be found on Youtube, Spotify, Apple Music, Google Play and Amazon Music.