Scarefest opens for the season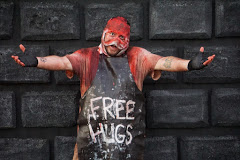 It's that time of year- fall weather, apple orchards, pumpkin carving, football games, and haunted houses.
"I've been to Scarefest for the past three years," senior Kayla Evans said. "I can definitely say it gets better and better every year."
Scarefest Scream Park, located in Lenox, Michigan, is known as "Detroit, Michigan's top haunted house and hayride". There are four total attractions within the park: the hayride of doom, castle of the dead, forest of darkness, and the terror zone maze. Workers, referred to as "monsters", roam around the site, ready to scare. The night is packed with sounds of screaming and chainsaws, smoke filling the air, and ghouls hidden all around.
"I love the thrill and adrenaline rush, I love having so much fun with my friends, " said senior Kyle Campbell. "My favorite attraction was the haunted maze… because I finally made it out!"