Journalism editors plan trip to DC
Students will attend national convention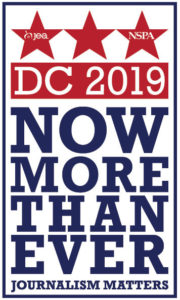 Returning editors from both the Arrow news and Warrior yearbook staffs were invited to attend the National Scholastic Press Association's Annual Fall Convention at the Washington Marriott Wardman Park. They will travel with adviser Stacy Smale from Nov. 21-24.
"NSPA and JEA host two conventions a year," Smale said. "I prefer taking students to the fall convention, so that they can get lots of ideas and get motivated to make their publications the best yet."
The fall convention is a gathering for high school journalism students, and offers learning sessions like problem-solving and hands-on workshops. There is also an exhibit hall, contests, awards, critiques, consultations, and information on journalism careers.
"This trip is a really good opportunity for students interested in journalism, because the conference has professionals teaching sessions," Smale said. "There is always something there that can interest everyone."
Last year, the convention was held in Chicago. Those who went got to do many things both in and out of the conference, such as city tours, workshops and shopping.
"My favorite part was when we went to the Chicago Tribune and went to an editors meeting," senior Abigail Jenkins said. "It was a very special opportunity, because we got to see what a real conference is like."
Students spent most of their time going to different workshops presented by teachers and journalists.
"My favorite part was going to the workshops because they were really interesting," senior Parker Hopkins said. "Everyone gets to choose which sessions they want to go to."
Smale is especially excited this year for the key-note speaker.
"I'm super excited for this convention because Chuck Todd is going to be the key-note speaker this year," Smale said, "so it's a very special opportunity."
Todd is moderator of "Meet The Press," host of "MTP Daily," is NBC News' political director and serves as on-air political analyst for "Nightly News with Lester Holt" and "Today."
In addition to attending convention sessions, students will also tour the U.S. Capitol and FBI Headquarters. They will also participate in a Monuments by Moonlight trolley tour.