Student athletes commit to colleges
Football, basketball, soccer, volleyball. A handful of students have committed to colleges where they will continue to be student athletes.
Committing to a college in high school simplifies the recruiting process that others have to go through. Athletes can verbally commit, which means a college-bound student-athlete verbally agrees to play a sport for a college before they decide to sign the National Letter of Intent and make it official. By May 1, 2020 it's recommended for seniors to have signed and committed to their school of choice. The process can take place over a long period of time and is a big decision for most athletes to make.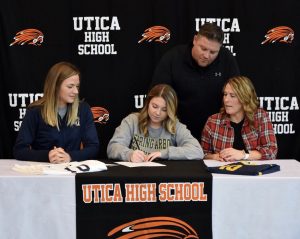 Senior Abby Rissman is a future volleyball player for Spring Arbor University in Spring Arbor, Michigan. Rissman has played on the varsity volleyball team at Utica, where she was then noticed by many colleges. The Spring Arbor coach, Betsy Martinez, reached out to Utica's volleyball coach, Jeffrey LaPratt, showing interest in her for their team.
"Coach LaPratt gave the coach my information," Rissman said. "We set up visits and I sent my schedule so she could come and watch me play."
The coach then went to watch her at the Cobo Hall in Detroit at one of her tournaments. She got to see her play to help make the decision to commit her to the school. Along with Spring Arbor, Rissman also received offers from other schools for the volleyball team, including Rochester University.
"I made many visits to other schools," Rissman said, "but felt most at home when I was at Spring Arbor."
Along with playing volleyball, she plans on going into their teaching program.
"I also picked Spring Arbor," Rissman said, "because I want to have a career in teaching."
Rissman is excited to continue to play volleyball at college and start her career. She's looking forward to meeting the team and experiencing what it is like to play volleyball at a college level.
There are not only seniors that have been recognized by colleges. Junior Alex Pulaski, started the committing process in junior high. Pulaski had been noticed by Butler University for soccer. When she was in eighth grade she began going to watch many games. She made her first visit to the school this past summer. Although she was looking at other schools, she immediately loved the campus at Butler.
"I did not have any trouble deciding if I for sure wanted to commit," Pulaski said. "I knew as soon as I was on campus that I wanted to go there."
In November of her senior year, she will officially sign to play for Butler. As for now, she is verbally committed and is excited for what's to come.
Butler University soccer team also reached out to senior Arianna Jalics. It all started the beginning of her sophomore year when Butler's coach contacted her current coach, Jeremy Harkins. From there, Jalics contacted the coaches to get to know more about the team. She went to visits and the coaches watched her at one of her showcases.
"I did look at other schools before choosing Butler," Jalics said. "However, I immediately loved the coaches, the team, and the campus at Butler."
Jalics loved how small the school was and all the nature on campus. She can't wait for the conference tournament, where the winner of each conference play each other to win.  She feels most at home at Butler and knows she made the right decision.
"On Dec. 16 in the media center," athletic director Karyn Holmes said, "Utica will be having their official signing day."
The signing day is a day to recognize our student athletes who are committing to continue their sport in college. Its a big day at the school when students sign the National Letter of Intent to take their sport to the next level and commit to play for college teams. Signing is the final and most important step to the committing process. Committing to play any sport is a huge accomplishment and shows all the student athletes hard work pays off.
About the Contributor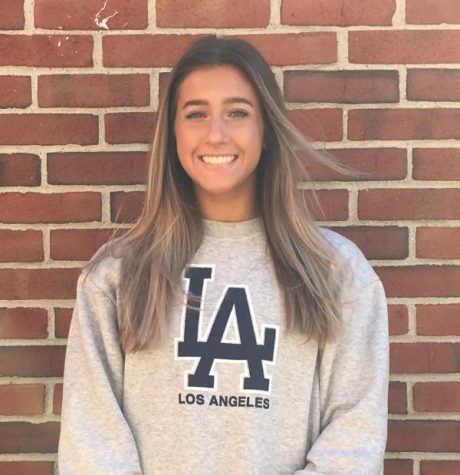 Nina Andrianos, Online Reporter
Nina Andrianos is a senior and this is her first year on the newspaper staff. Nina is also this year's captain of the varsity dance team. When not dancing,...