Hitting the Target
For many students, the month of November is a month like many of the others. Most students in November deal with homework, work, clubs and the occasional winter sport, but for some students, like senior Jack Shepherd, it is a month in which life back home is put on hold, and hunting season takes over.
"Hunting is very important to me," Shepherd said. "I love getting into the woods and experience nature for a good period of time."
Around the same time every year, Shepherd and part of his family go up to their cottage in Gaylord to spend a week in the wilderness, with deer hunting the only thing in mind. Last year was his first year taking down his own deer, and for someone who loves hunting, it was quite a thrill.
"I felt a feeling of manhood," Shepherd said. "It was very exciting and I felt a real sense of accomplishment."
Like Shepherd, many other students share similar hunting memories, as it can be a big part of a student's life, and provides a time to bond with family and friends and at the same time spend some quality time outdoors.
"I go with my dad and uncles," Shepherd said. "We go every year and it's always a really fun time; I have so many good memories."
During hunting season, which starts in September and can last into February, depending on the animal and weapon, students can take time off of school, possibly up to weeks, to hunt. This could have an impact on learning, something that is a small problem in principal Thomas Lietz's eyes.
"I have a little bit of an issue with hunting when it cuts into school time," Lietz said, "because I think there are a lot of reasons kids get out of school, I do not believe somebody has to be out for opening day."
Other than the aspect of missing days of school to hunt, Lietz believes the activity has its positives, as well.
"I think hunting is a pretty cool activity," Lietz said. "When it's done smart and safely and with good interest."
Like any sport, with the beginning of the season comes preparation and practice.
"A couple weeks before the season actually starts, I go up to my property and sight my guns in," Shepherd said. "I do this so I will be prepared by the time the season comes around."
Most students either have their own property to hunt at or will hunt at a relative's or a friend's. Like any activity, students and families have a preference of where they would like to hunt, when they would like go, what animal(s) they prefer to hunt, how much school they will miss and when they depart.
"I hunt up at my cottage on Lake Saint Clair for ducks," junior Dillon Wagner said, "and I have a property up in Clyde Township, around fifteen minutes west of Port Huron, where I hunt for deer and turkey."
Similar to how a kid learns to throw a baseball or shoot a basketball, the sport of hunting is taught by someone experienced in the activity, whether it is a family member, friend or somebody else. Teaching is necessary, as one slip up could be dangerous, due to the fact there is a weapon involved.
"My dad and great uncles taught me how to hunt basically everything when I was in fifth grade," Wagner said, " and my dad was the one who had introduced me to it, though."
Students may enjoy any aspect of hunting, from hitting the animal to spending time with family, or even taking time and enjoying the atmosphere outside on a cold November day. In Wagner's case, getting the animal that had been desired was only a small part of the joy, as to him, there is way more to hunting than just a good shot.
"For me, only 10% of the fun in hunting is getting the quarry you're after, whether it be the ducks, turkeys or deer," Wagner said. "The other 90% of the fun, and the most fun in my opinion, is being able to go out into the wilderness and be around everything you wouldn't be used to sitting on your couch in your home."
For some, spending long amounts of time in the wilderness may seem uninteresting or boring, but for Wagner and fellow hunters, it is all part of the sport, and an enjoyable part, as well.
"When you're out turkey or deer, hunting," Wagner said, "you're all around the birds and other creatures scurrying through the woods, enjoying the beauty of everything."
No matter what age, it is never too late to try a new thing, and hunting is an activity in which many students participate. Although it may take a while to see, or even catch, an animal, with a little patience the results can be very rewarding.
"My advice to anyone who wants to go out for the first time is to not get discouraged," Wagner said. "Hunting is most definitely boring, and you definitely are not going to see animals every time. But it is also very rewarding being away from all the stress at home or work."
About the Writer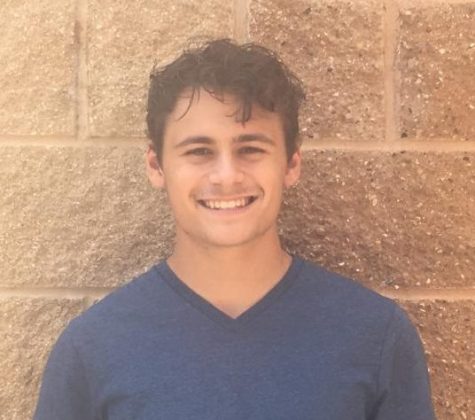 Dominic Lount, Sports Editor
Dominic Lount is a senior and entering his third and final year on the UHS Arrow news staff. Dom swims and plays baseball, and likes hanging with friends,...