Passing down the leather jacket, and a bit of musical history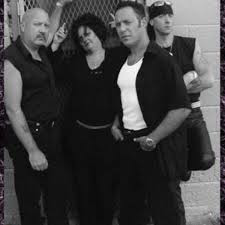 It's the leather jacket that holds the past of a hidden star. Nobody would have guessed that custodian John Najbaroski was a musician for Annie Richards and Jester, as well as Johni Dee and the Mystery Train, which had hits on the radio.
Sophomore Riley Davey was noticed by Najbaroski for his style and leather jacket. Once Najbaroski realized that Davey's jacket was ripped, he knew exactly what he wanted to do.
"I saw the coat that he had and it had a snag in it. I told him to come over to the janitors' area, and I asked him to try the jacket on. It fit, so I told him to take it. At first he said he couldn't accept it." Najbaroski said. "I wanted it to go to someone who would wear it and appreciate it, not just wear it as part of a costume."
When Davey first received the jacket he was shocked and confused. His old leather jacket was two years old and had many holes in it, and was beginning to show some wear.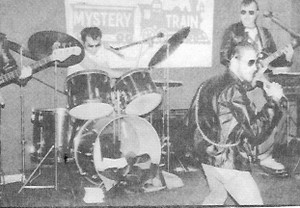 Najbaroski knew that Davey would appreciate the jacket, which was an important milestone in his life. He knew he had found the perfect person to take care of it, just as he had many years ago.
Najbaroski was a musician for most of his life, making music for a living, playing in numerous bands through the years, touring across the country, and performing regularly. He also considers himself as a "jack of all trades" when it comes to playing different musical instruments and genres.
Najbaroski made a living off of music, so after retiring ten years ago it was a relief to get rid of anything career-related. He decided to come help out as a custodian in Utica following this retirement.
"I played in many bands. I mostly played country–the records that did well for me were country–but I also played rock 'n' roll. Then as I got older; oldies and classic rock." Najbaroski said. "I was lead guitarist; however, I did play a bit of everything. I've played everything professionally: drums, keyboard, and bass."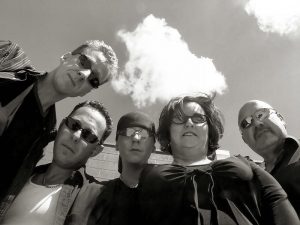 Najbaroski's musical career was filled with opportunities few musicians achieve. He was able to create hit songs like "In the Moonlight" by Annie Richards and Jester, and "If I Had Any Sense At All" by Johni Dee and the Mystery Train. He also played with many celebrities.
"Many years ago I got the chance to play and perform with Freddy Cannon. We would do car shows on the East coast," Najbaroski said. "Down south we were always the headliner and there were a few other bands."
Now, every day seeing Davey wear the leather through the halls, Najbaroski gets nostalgic. He briefly flashes back the memories of the life he lived on stage, and brings him back to his years touring the country, before settling down.
"Now I see [Davey] walk up and down the halls and it makes me smile. He's always getting use out of it," Najbaroski said. "It makes me happy, it's nice, and brings me back a lot of memories."
"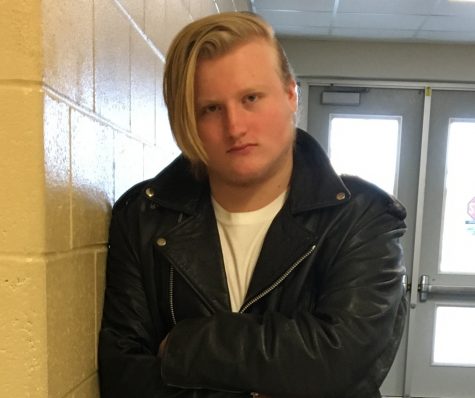 When he gave me the jacket it made me feel good… it was a cool thing for [Najbaroski] to do, and he seems like a really good guy.
— Riley Davey
After selling his motorcycle ten years ago and retiring from music, Najbaroski wouldn't be wearing it anymore. So, he wanted to make someone else feel special.
"When he gave me the jacket it made me feel good," Davey said. "My first thought was that I now have a new jacket that is functional."
Najbaroski's clothing style is very similar to Davey's. Throughout his life he would wear the leather jacket to particular occasions.
"I would wear it on stage at different shows and when I would take my wife riding on the motorcycle, but now that I'm done with my past life I sold my bike," Najbaroski said. "From the first day I saw [Davey], I've always liked his style, and he reminds me of when I was kid."
When Davey returned home from school, the jacket came as a great surprise to his family.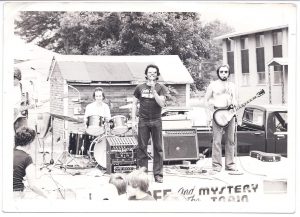 "My family was happy for me and they thought it was a cool jacket," Davey said. "They didn't make a very big deal out of it, but for me it was really cool; it was a cool thing for him to do, and he seems like a really good guy."
Now that Davey knows about the jacket's past, he's especially honored to wear it. Many memories were made while wearing the jacket, and now many more will be made in it while Davey pursues his own musical interests, playing the guitar just as Najbaroski did years ago.