Quiz Bowl team takes trivia wins
National Academic Quiz Tournaments, or simply knows as Quiz Bowl, is a game in which two teams compete against one and another to answer questions from all areas of knowledge, including history, literature, science, fine arts, current events, popular culture, sports, and more. Teammates are separated based on what topic they know best.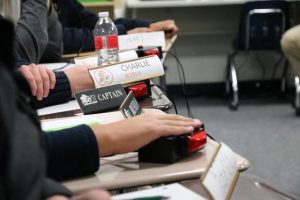 Utica High School's Quiz Bowl team has done very good this year so far, with only one loss is their most recent tournament.
"I never thought I would fit in," senior Haley Grooms said. "Quiz Bowl seemed so intimidating, but in reality, it's just a bunch of nerds playing Jeopardy… in a different setting."
"We practice every Tuesday after school," senior Aiden Gress said. "The team also practices questions at home to make sure that we are really prepared for our matches."
The Quiz Bowl "season" lasts from October to January; however, the team is more of a "club" rather than a "sport," meaning, no tryouts are required to be a member.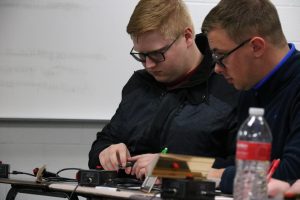 "Quiz Bowl is for anyone and everyone. It is a fun way to get students interacted with each other," senior captain Charles Borus said. "Many friends are made and the tournaments are fun. Quiz Bowl is good way to become more involved with the school."
Quiz Bowl is a group effort, one that requires focus, precision and any random knowledge participants have.
Utica's team allows anyone interested to join, and practices in room 244 after school on Tuesdays.