Downtown Utica lights up for the holidays
For the third year in a row, the City of Utica has hosted a Tree Lighting ceremony. In the past, the ceremony included carolers, horse-drawn carriages and visits from Santa Claus.
This year's Tree Lighting was held on Dec. 6 in Memorial Park on Auburn Road. Unlike previous years, this year did not include any live animals, like the horse-drawn carriages.
"Utica has hosted a Christmas Tree Lighting for several years in the past," Utica Mayor Thom Dionne said. "Only within the past [three] years has it been a celebration of epic proportions. I organized the event with the help of my office staff."
The Utica High School Marching Band performed at the Tree Lighting, as well. They have been practicing their music most days during class since November in preparation for the event.
"We spent a lot of time practicing for the Tree Lighting," senior Gianna Bratke said. "First, we watched our Festival footage to see what we needed to work on overall within the band. Then, we got out packet of Christmas music, which we just rehearsed right out. We just ran through each one and ironed out the kinks."
Practicing for the ceremony was no small task, as many of the students hadn't played Christmas music in close to a year. Making sure every song was played well took a lot of work for members of the band.
"It's all in good-heartedness, when we stop every couple measures to work on something for twenty minutes," Bratke said. "It gets a little bit annoying, but it's all in good fun, and it's important to work everything out before our performances."
Several new additions were add for this year's ceremony, including food, special guests and music from Utica High School.
"This year there we've added fireworks, Princess Elsa & Olaf, 500 donuts that were donated from Krispy Kreme, hot chocolate, and the Utica High School Performance Choir," Dionne said.
Also new this year was the attendance of Red Wing Brendan Perlini and his father, Fred Perlini, a former member of the Toronto Maple Leafs. The pair were at the event collecting donations of food for those in need. Brendan Perlini brought Red Wings merchandise to give out to fans.
In previous years, attendees could get a small tour of the Downtown area via horse-drawn carriages and pet live reindeer at the ceremony. However, this year's event didn't have either of those opportunities due to booking conflicts, according to Dionne.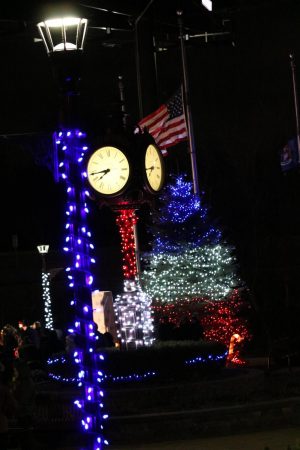 Members of the Utica High School Choir also performed at the event. This was their first year attending the ceremony, and they performed a number of the Christmas carols the town knows and loves.
"I felt very honored that the Mayor reached out to the choir," senior Melissa Hoti said. "We did a lot of the traditional Christmas caroling songs. A lot of people seemed to enjoy them. With one song, "We Wish You A Merry Christmas," we did a little collab with, and sang along to the band's music, which was nice. We were nervous at first, but we steadily gained momentum and felt more confident by the end. The audience really reaffirmed it."
The ceremony concluded with bursts of fireworks across the sky. These were another new addition to the event, one which brought much more light to the Tree Lighting.
"The fireworks were really beautiful, and I think it was a nice change," Phillips said. "We really looked forward to it for the Tree Lighting."
The tree was lit in red, white, and blue, as seen in the photo to the right, to support the country and citizens of Utica who work to protect it.