Healthy diets encouraged by coaches
On and off season, athletes stay on top of physical health
No matter what season an athlete's sport is in, diets play a crucial role in an athlete's health, as well as their performance. Many Utica teams are trying out a variety of different diets to make sure athletes stay healthy and in shape over the course of their seasons, or even their off-seasons. Some may include lots of protein-filled meals, while others involve lots of liquids.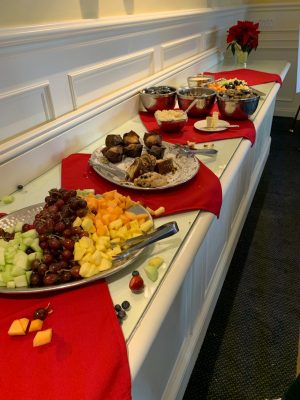 One example of a sport trying out a team diet is the football program. Football players have been trying a new diet called the ectomorph diet. This diet includes different foods that have lots of carbohydrates and calories. The football players were told to follow this diet during their off-season in order to stay in shape for the next year. This diet affects all three meals during the day, starting with breakfast.
"It is different for every player," junior Dylan Lelito said, "but for me, in the morning I have a protein shake with two fruits in it, and then two pieces of toast with almond better, and three egg whites. There is also an A.M. snack with a granola bar, a couple of almonds, and another protein shake.
The goal of the ectomorph diet is to lose weight and slim down, becoming more agile for the next football season. It then continues with lunch, followed by food before and after working out.
"For lunch, you can have chicken or turkey, and I have chicken," Lelito said. "I have two chicken sandwiches, a couple fruits, Greek yogurt and a salad. Before you work out, you have a peanut butter and jelly sandwich, and after you work out it's a protein shake and water."
Another sport with a different suggestion on diet is wrestling, with a diet centered around liquid, or drinking large amounts of water. This will help drastically improve weight loss, something crucial for competitions. Healthy vegetables and proteins are also encouraged as well, to help wrestlers get in prime shape as the season commences.
"I only drink water," senior Adian Rick said, "and I eat as many leafy greens as I can. I also try and eat lots of lean proteins, such as ground beef."
Water is a very crucial aspect to the wrestling diet, as some wrestlers can be seen carrying jugs of water around the halls.
"Water is the main component of the whole diet," Rick said. "I drink at least a gallon of water a day."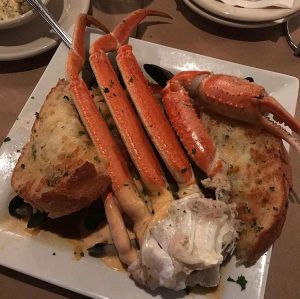 One aspect of these diets is that some may include cheat days, one or maybe two days in which the student-athlete can stray from their athletic-based diet and eat anything they choose. These can help boost confidence in being able to partake in this diet, by having a few days which student-athletes are able to eat freely.
"For a cheat meal," Rick said, "I get a huge bowl of Chipolte every two weeks."
The varsity boys swim and dive team also has a specific diet used for gaining energy to prepare for meets: a diet containing many carbohydrates.
"For swim, our team carb loads so we can be prepared for our meets," senior Dylan Daniels said. "We usually have pasta parties the night before meets so we can bond as a team, get to know the newer swimmers, and have energy for the next day."
For basketball, the players try to maintain physical fitness, and prepare for their upcoming season, as well. For junior Alex Lewis' diet, he eats plenty of different fruits, such as apples, to stay healthy and in shape.
"It's important to follow the diet plan," Lewis said, "so you're in shape and you can perform at your highest ability. I do think this plan will help me with both of those things."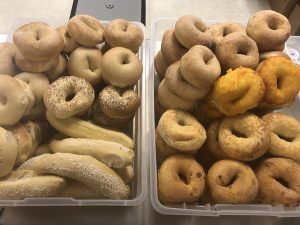 Even though many of these plans for winter sports are different, they all do have the same goal of getting athletes in shape for the season and getting them ready to perform at peak level. Then as the season goes on, their fitness will improve even more, helping them reach a higher level then before.
"I always preach that athletes should live the athlete style," coach Clint Davis said, "whether you're a wrestler, football player, cross country runner, soccer, or any others. If you put garbage in, you're going to get garbage. I think everybody knows how to eat healthy, but the hard part is having the willpower, and putting in the effort."