Nike vs. Adidas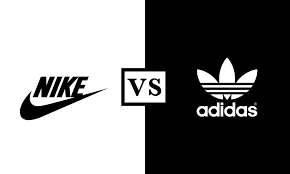 Everyone has heard about both brands Nike and Adidas, but the choice between the two has risen a problem, which one do you choose? Whether it's for the variety or even the comfort, both have an array of options. Students were asked their opinion on the topic, and what about each brand caused them to make their choice.
"I'm going to have to say Adidas," junior Adrian Qafa said. "Not only do they have great and comfortable shoes, but the clothes are very high quality and fit the casual wear that students like to have on."
Others, like senior Bella Camaj, choose to bring it in another direction with Nike.
"I'm going to have to go with Nike," Camaj said. "The material is nice, and the shoes are very stylish. I also love that they're a lifestyle type of brand. They keep it simple while making shoes that fits a lot of people's options."
Teachers like Andrea Solomon even got in on the choice, stating Adidas as her favorite brand.
"I was a soccer player growing up and I always thought that Adidas was for the soccer stuff. Everything I had growing up was Adidas," Solomon said. "I was Adidas through and through. Joggers were also my favorite product from them, they're so comfortable."
Students were also asked what product of both the brands was their favorite. Some people, like sophomore Aydin Mahmutovic, were actually wearing their favorite products while answering questions.
"My favorite product from Adidas is their Yeezys," Mahmutovic said. "The fact that a rapper I listen to started a brand with amazing shoes is the best. I'm actually wearing a pair right now."
Camaj even gave her favorite product of Nike, proving why her love for Nike is there.
"My favorite thing from Nike is their shoes, specifically the Nike Roche," Camaj said. "The Roches are very comfortable, I've had the same ones for about 4 years now and they are still in good shape."
Even singer Manny Torres got into the conversation, with the telling of why both are good for him because of the different purposes they both are used for.
"I work out six times a week and run a lot, and Nike in my opinion has the best shoes for athletics," Torres said. "While on the other side, Adidas has good street wear, and I love that they do music artist collaborations with Kanye and Pharrell being a few of them."
Students also had mixed opinions about which were their favorites, explaining and agreeing with Torres that both are used for many different things.
"I honestly can't pick, there is different things in each that I gravitate toward to more. For example, I would pick Nike clothing over Adidas clothing. I think there's more options and different styles that fit anyone's style. Plus, their jackets and pants are very comfortable," junior Samuel Gegaj said. "On the other side, I would choose Adidas shoes over Nike shoes. Adidas has more of a variety with shoes and a lot of good collaborations with different people."
It would seem that in the school, there is still a different opinion for each different person, meaning both companies are doing a good job with getting their marketing to reach everyone. Whether or not people with direct opinions like it, this conversation will keep going as long as both companies are making popular products.