Varsity football team faces ups, downs preparing for first game
Home opener cancelled after athlete tests positive for COVID-19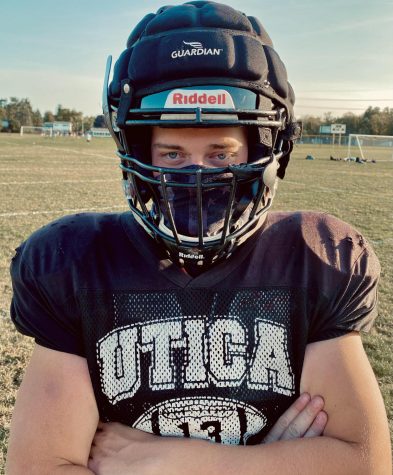 Football players, families, and fans were disappointed to hear the news. After a member of the varsity football team tested positive for COVID-19, Utica's Sept. 18 home opener against L'Anse Creuse North was cancelled.
"I know that a lot of the players, as well as myself, are disappointed that we couldn't play our opening game," senior center Andrew Heck said. "It's better to play it safe, rather than having no season at all, though."
After a summer of conditioning, the Michigan High School Athletic Association announced on Aug. 14 that, following the state's executive orders, football would be postponed until the spring.
"At the end of the day, we did everything we could to find a path forward for football this fall," MHSAA Executive Director Mark Uyl said in a press release. "But while continuing to connect with the Governor's office, state health department officials, our member schools' personnel and the Council, there is just too much uncertainty and too many unknowns to play football this fall. No one is willing to take the risk of COVID being passed on because of a high-risk sport."
Parents, coaches, and athletes wanted their season, but Governor Gretchen Whitmer said she the decision was made to keep everyone safe, and she was keeping the virus and the kids' health in mind when making her decision.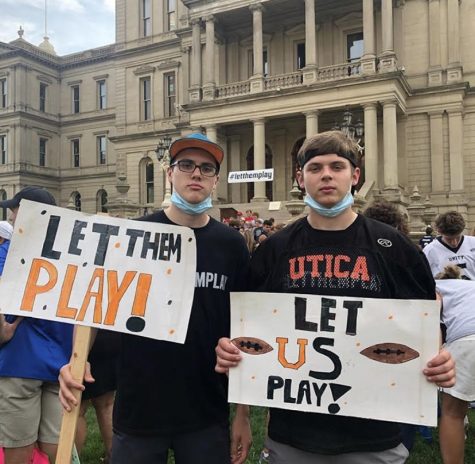 Several high school football teams, along with their parents and supporters, protested in Lansing, using the social media message #LetThemPlay.
"I am very happy that I attended and was a part of this rally," junior offensive tackle and defensive end Trevor Pace said. "I thought the protest was awesome and I'm glad so many people came to support us. I feel great about getting my voice out showing the people of Michigan how much football means to us athletes. For some of us, it's our future."
Whitmer later lifted restrictions in the state, and on Sept. 3 the MHSAA reacted by reinstating high school football.
"We share the Governor's priorities of putting health and safety first," Uyl said, "and the COVID-19 guidance and protocols designed by the MHSAA at her request have led to the safe starts in all sports across the state."
"
For some of us, it's our future."
— Junior Trevor Pace
The team, which had already isolated earlier in the summer due to a positive COVID-19 test, was anxious for their first game. They had worked hard at practices, followed state laws and protocols with temperature checks, and wore masks while running through drills.
The season, however, was paused when another teammate, unrelated to the earlier summer test, was COVID-positive before their season opener, and the team could not meet the required 12 practices before the game, as they had only practiced four times before they quarantined.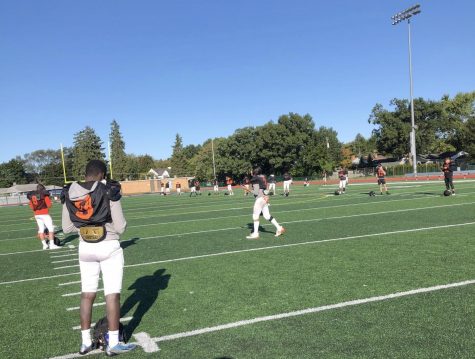 Practices moved to homes through Zoom calls, and the team watched films so the team could stay prepared for the season's return.
"This season is unlike any other," senior linebacker Dylan Lelito said. "It sucks that we are only guaranteed six games compared to nine games, but it is what is is. I'm just glad I got the chance to have a senior season. It's better than nothing."
Utica's new opening game will be away at Anchor Bay on Friday, Sept. 25. Their first home game will take place the following week, on Friday, Oct. 2 against Henry Ford II.
Due to the major changes that COVID brought to schools, tickets are limited to two per athlete, and masks must be worn.
"
I'm confident that the group of guys we have this year can be the ones to put Utica back on the map."
— Senior Dylan Lelito
Despite the empty seats, players are still keeping a positive mindset with the game.
"This season we have a great opportunity to do something special," Lelito said. "Utica hasn't made the playoffs since 2017. This year every team in the state qualifies for the playoffs, regardless of your record. Utica has never won a playoff game before. I'm confident that the group of guys we have this year can be the ones to put Utica back on the map."