Self-screening COVID-19 protocols updated
Students, staff given new protocols to screen for symptoms before arriving to school
With classes being online, sports and other activities are still taking place, leaving students the responsibility to self-screen before arrival.
"Students must be self-screened by parent or legal guardian prior to reporting in-person to any school class, function, or activity including short duration visits," according to a memo sent to Utica Community Schools employees and volunteers, who were directed to make sure their students were following the protocols.
Coaches for example, will make sure their athletes are self-screened before proceeding to the verification sign in sheet.
"The new self-screening way of signing into practice isn't too bad," said senior Garek Schmidt. "It's a quick sign off to checking ourselves before the practice or game, it's a good way to make sure everyone feels safe."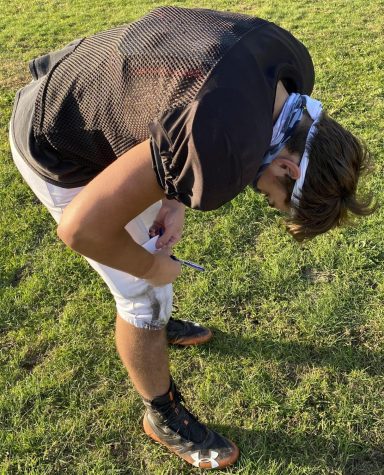 A short list of questions regarding COVID-19 are required to be answered by anyone visiting schools, playing sports, or any other occasions. Questions include if students have been exposed recently, feeling any symptoms, and a temperature check, and if the answer is yes to any of them, that person is not to enter the school or grounds, or attend any school activity/function.
"Self-screening is happening so we can keep the season going, if we didn't have it, everyone would be sick and back to quarantining," said senior Jacob Egnatoski. "I'm looking for a good season this year, self-screening will really be helping us all out.
In addition to remaining off school grounds, those who answer yes to any question should promptly contact the Department of Health and Human Services or family physician for further guidance, according to the memo. It also states that schools should call the Executive Administrator of Schools office with any cases of COVID-19 or close contacts of COVID-19 immediately.