It's a dog's life
New dog park opens in Utica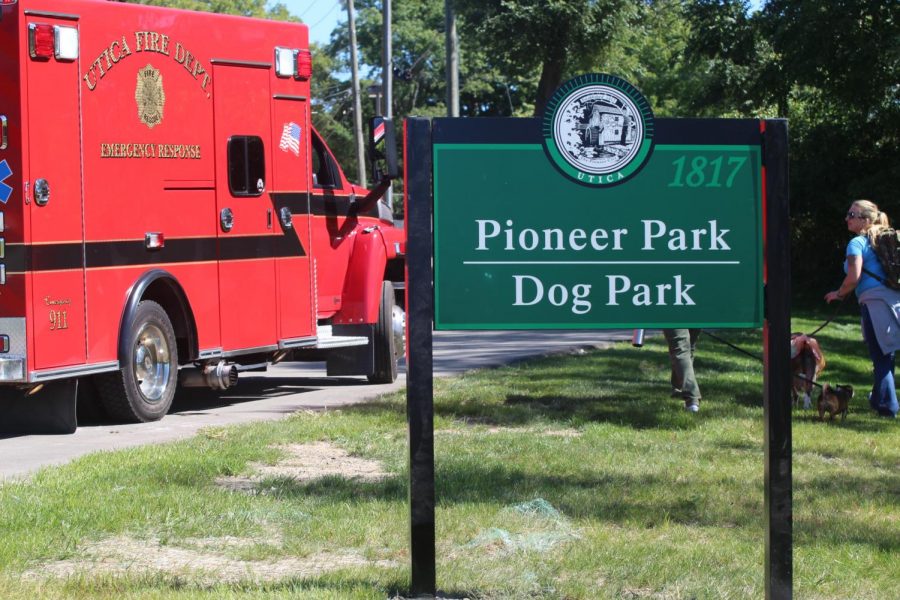 Lazy days on the couch may be a thing of the past for local dogs.
On Saturday, Sept. 19, a new dog park opened in downtown Utica, right next to Eppler Junior High. The park is called Pioneer Park and can be accessed from the Iron Belle Hike and Bike Trail.  The park was able to be built because the city of Utica received a legislative grant from the Michigan Economic and Development Corporation from a Utica alumni, State Representative Diana Farrington.
The land used for the dog park used to be a landfill, so it took a lot of work to make sure the property was utilizable and safe. Over 40,000 yards of soil was brought there in order to fix the contaminated space.
The park is now complete and consists of a large fenced area where dogs can run and play. Pioneer Park is split into two sections–one section for larger dogs and one for smaller dogs.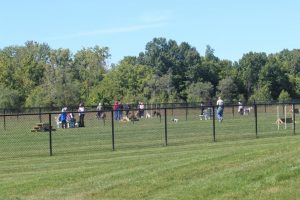 Pioneer Park is accessible from dawn to dusk everyday. There is a membership available for purchase for Utica/Shelby Township residents for $25.00 per year. For non-residents the fee is $35.00. People who become members will receive a key for access.
There's some history that went behind coming up with the name for the new dog park. Utica is known as "The Pioneer City." In the 1960's it was nothing but a landfill and then was abandoned. On the property there was also the Utica Packing Plant. It was one of the largest pork processing plants in North America. It operated for around 100 years.
Now that the dog park is operating there are some important rules the city enforces to ensure that everyone's dogs stay safe.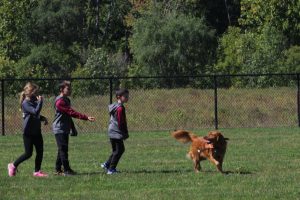 "All dogs using the park must be licensed and up to date on their health records," Mayor Thom Dionne said. "People must pick up after their pet and people are responsible for their dog's behavior."
With that being said, if your dog is being aggressive, you must immediately remove them from the park to prevent fights from happening. Also, in regard to COVID, masks are not required, but are encouraged.
For the grand opening Utica residents met up at Grant Park with their dogs and walked together in a parade to Pioneer Park. It was free for the first time visit and people were let in through the gates with their dogs. All of the dogs and puppies were playing, running and testing out the toys. The fenced area is spacious and gives the dogs plenty of room to play. Also, the separated areas between big dogs and small dogs makes it safer for the owners and their pets.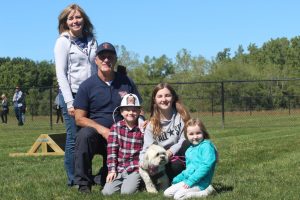 Lots of families and their dogs attended the grand opening of Pioneer Park. One of the families that came to the new park was the Ricketts family.
"Our dog, Tilly, loves it," Christy Ricketts said, "and it's great that we have a new place to bring her to play."
Also, many kids from Utica High School were there as well. 2020 Utica graduate Samantha Dudek brought her dog, Xena.
"I usually bring her to Whispering Woods because she's nervous around other dogs," Samantha Dudek said, "but she was pretty good being by them today."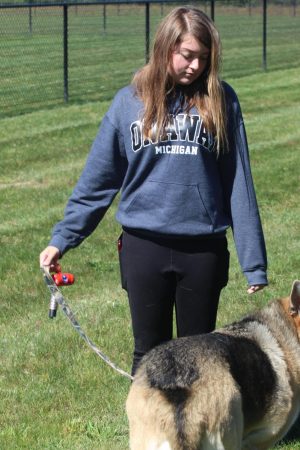 Pioneer Park is open and available for all local residents. If you have a dog or puppy and need a place for them to run and play, you now know where to go. Our pets are probably tired of quarantining, too.
About the Contributor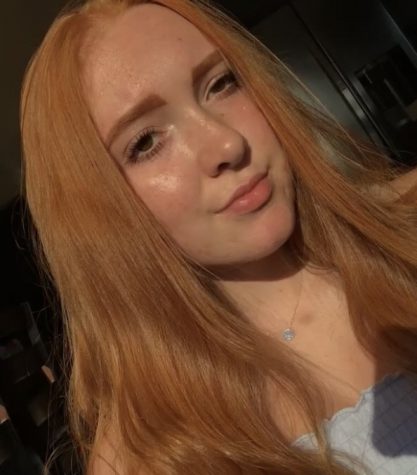 Aspen Halbhuber, Social Media Editor
This is Aspen's last year at Utica High School. She doesn't know exactly what she wants to do for college yet, but she knows she wants to go into business...