Scarefest Is Now Open!
Is Scarefest taking enough precautions to keep everyone safe?
We all love to get a little scare on during the Halloween season. However, ever since coronavirus happened everything has been up in the air with decisions.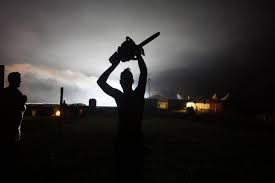 But, Scarefest Scream Park, located in Lenox, Michigan, has decided to open on September 18th with a little bit of changes to keep everyone safe.
"Even though Scarefest had a lot of new rules to follow, I still had a ton of fun," senior Annie  Droelle said. "I go to Scarefest every year, and I'm so happy it is still going on with COVID."
Scarefest now has the precautions of everyone getting their temperature taken before entering, it is a requirement to wear masks, and instead of waiting in line to do the attraction, now the lines are online and they will send you a text when it is your turn.