Mail-in Voting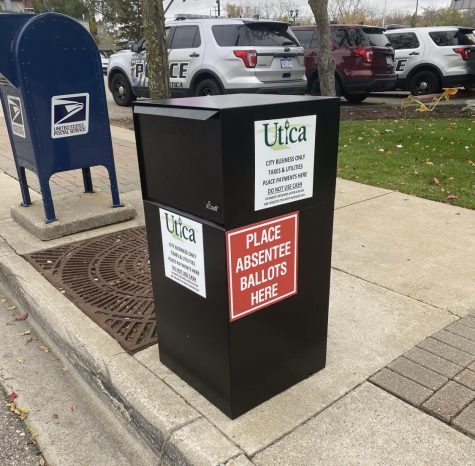 All states had the option for mail-in voting including Utica. A lot of people this year will be voting by mail-in ballots and even some seniors.
Most people think voting by mail is the better option as well.
"Mail in voting is very convenient," graduate of 2020 Joey Sobak said, "and I feel it is way better due to the COVID problems."
Although in person voting is an available option some people preferred to vote by mail.
You could cast your vote by using the ballot box in Utica
"We've had no issues with the ballots at this time," Mayor Thom Dion said. "We have installed an outdoor, curbside, bin that can securely accept ballots."
Some think that voting by mail will be safer and prevent COVID from spreading.
"I think most people should vote by mail," Sobak said, "because it's faster and safer."
Voting by mail is still a good way of voting and your vote will still be counted like normal.
Voting by mail may be a more viable option for some people if  their schedule is busy.
"I believe more people will vote by mail," said Sobak, "because some work schedules won't work out to take time and go vote."
If you decide you want to vote in person you still can but there are regulations as to prevent the spread of COVID
"I will be voting in person, per usual," said Dion, "however, I will be staying consistent with all of the required and recommended safety protocols."
"voting in person," senior Jayden Dawkins said, "because my grandma said its better to do it that way."
You were still able to register to vote fairly easily to cast your vote this year
"I registered October 12th," Dawkins said, "it was not difficult because my grandma helped me register."
Dawkins said that his family helped him decide who to vote for just like some other new voters.
Most new voters are happy they can finally vote for who they want and that their opinion matters.
"It feels good I do not really notice a difference, yet," Dawkins said, "Also I don't really care about voting at this age I'm sure when I get older I will care."
some voters can never be positive for the candidate their voting even if their new to voting or an experienced voter.
"I honestly do not know if I am confident or not," said Dawkins.
Even if your a new voter you should still vote either by mail or in person because every vote matters for the candidate you choose