Billie Eilish holding global livestream concert during pandemic
Billie Eilish is one of the newest, youngest, and biggest rising artists right now. Her and her older brother Finneas O'Connell recently took the world by storm with music all made in O'Connell's bedroom.
They first caught a glimpse of fame with their song "Ocean Eyes," released when Eilish was only 14 years old.
The two have gone on as the dynamic duo they are, to release major tracks like "bad guy," which has since had Eilish's celebrity crush from when she was a kid, Justin Bieber, adding his own vocals to it.
Eilish has won 5 Grammys, including an award for New Artist, Album, Song, Pop Vocal Album, and Record. While most people her age were still in high school, she put out two albums.
Now, with a pandemic coming into play, Eilish isn't letting that stop her from performing, which is why she recently took part in her first global livestream concert.
Eilish has accomplished so much at just 18 years old. She's gone on world tours and been all over the radio. Fans will probably be excited to hear they can watch her talk about it all soon because it was just recently announced that Eilish will be releasing a documentary called "Billie Eilish: The World's A Little Blurry."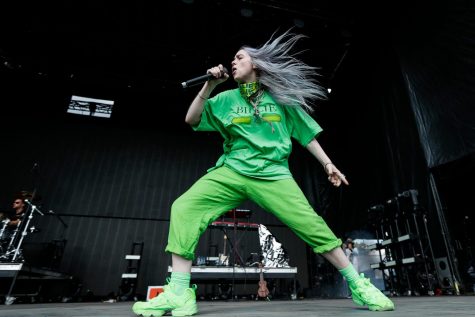 Senior Natalie Birli is a big fan of Eilish's music.
"'No Time to Die' is one of my favorites." Birli said. "Her voice is very powerful which is different from most of her songs."
'No Time to Die' was a special song from Eilish as it was for the James Bond movie of the same name, and she became the youngest artist to ever write and record a James Bond theme song.
Birli was at Eilish's Oct. 24 virtual show and also plans to be in attendance at future virtual performances from the young musician.
"I will be attending her virtual concert," Birli said. "I wasn't able to go to her concert in March because of the pandemic."
Eilish had a world tour planned before the infamous coronavirus put a halt to things.
With the documentary coming up soon, and more virtual concerts on the lookout, one could assume Birli has only positive things to say about them.
"I think that her making a documentary is pretty amazing," Birli said. "It gives us a better look on what goes on in her life and the music making process."
Another fan of Eilish is senior Kadia Kustarz. She happens to also be in favor of the documentary.
"I feel that it's interesting and can help her with her expression." Kustarz said. "In a way, she can be following in the footsteps of older musical artists who did something similar."
Though she's only 18, one thing is certain — Billie Eilish has a bright future ahead of her.