UHS students attended virtual Mental Health Summit
On October 7th and 8th, the UHS Mental Health Committee attended the virtual Mental Health Summit where they learned about mental health from advocates and board members of other committees. Students that attended the virtual meeting were able to choose what topics they wanted to learn more about by picking a specific breakout group. For example, some breakout groups were about the mental health linked with the LGBTQ+ community and racial prejudice.
Senior Allison Smith, a member of the UHS Mental Health Committee, was one of the students that attended the summit.
"My favorite part of the summit was learning about mental health awareness week and hearing the different perspectives from communities of the world," said senior Smith.
Schools from all over the country attend the summit to learn about mental health awareness and to learn the importance of the mental health of students. Committees also attend the summit so they can take away ideas from lectures to implement exercises at their school.
Junior Amanda Pesola, another member of the UHS Mental Health Committee, said she enjoyed one of the lectures where students were taught an exercise to benefit yourself when your mental health is declining.
"One of the lectures I attended that I liked a lot was one about a 'First Aid Kit' for mental health. It walked through how to help yourself if your mental health is struggling, and gave examples of things you could use to help you," said junior Pesola. "I thought it was really cool how the presenters gave specific examples and walked us through creating a 'First Aid Kit' so we could make one ourselves if we wanted to."
The UHS Mental Health Committee learned a lot and took away a good amount of ideas to implement into Utica High School to benefit students' mental health. In the morning announcements members of the committee have been explaining the exercises and giving helpful "tools" on how to cope with your current mental state.
Sophomore Natalie Shtogrin also attended the virtual meeting and explained how her and the other members of the committee plan on implementing the tools they learned about into the morning announcements.
"One of our seminars was called 'Mental Health Tool Kit.' We learned how to help students build a tool kit consisting of 'tools' such as sounds, sights, touch, people, smell, and action. Each week in the morning announcements we are adding a tool," said sophomore Shtogrin.
Junior Pesola went on to explaining why mental health awareness is important and why it's important for our school to have an outlet for those struggling.
"I think it's important because it's something everyone deals with to some extent. We all get stressed or nervous and some who have mental health diagnoses struggle. It's important to make sure that people know that it's okay to not be a hundred percent okay all the time, and it's important that we have that conversation and keep trying to remove the stigma around mental health," said junior Pesola.
About the Writer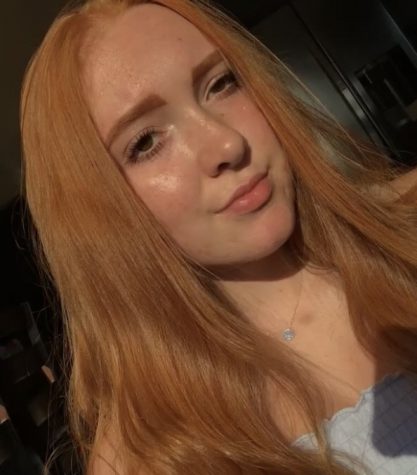 Aspen Halbhuber, Social Media Editor
This is Aspen's last year at Utica High School. She doesn't know exactly what she wants to do for college yet, but she knows she wants to go into business...