Boys cross country sprints to new level
Entire team qualifies for states, only the second time in school history
This year has been one to forget for many throughout the world, but, not one the boys cross country team will ever forget.
This year, the entire boys team qualified for the state meet for only the second time in school history.
Under the direction of coach Megan Berry, the boys finished in second at the county championship, only finishing behind Romeo, who would go on to win the state championship.
Coach Berry said she was happy with how the team performed this season.
"I was very happy with this season for many reasons. First of all, we finished second at the county championship," Berry said. "Also, we qualified as a team for the state finals, which was a huge goal of ours since summer, They ran the race of their lives at the regional meet in order to qualify."
During this season, senior Carson Nicoletti broke the school record with a time of 15:50. He later shattered his own record at the regional meet, finishing with a time of 15:29.
"Not only did Carson break the school record, but he was also our first individual county champion, our first individual regional champion, and our first All-state cross country athlete," Berry said. "Carson is an incredible athlete and person. His devotion to the sport is unmatched to anyone else I have ever coached."
Nicoletti, however, focused on his team.
"It felt good," Nicoletti said, "but obviously I was just happy I could help the team and the program for that particular event."
Nicoletti said that he plans to run at the next level, and believes that as long as a team is having fun and enjoying the camaraderie, that success will be a byproduct.
COVID-19 obviously had an effect on this season with the athletes not knowing if they were going to be able to have a season or not, but Coach Berry did not let that stop the team from training.
"Having to wear masks during warmup drills, stretching, and any time they weren't running took some getting used to but the guys were very adaptable," Berry said. "I feel the team was very appreciative of every single practice, knowing how our season could end abruptly at any time. We divided the team up in smaller training groups so that if anyone was contact traced, only a small group would be quarantined, not the entire team."
This year has been tough on many, and the cross country team was no exception. There was a lot of uncertainty to if they would or would not have a season. Berry thinks that this season will have a lasting impact and she will be able to tell future Chieftain runners the story of this 2020 team.
"I've never seen a team care as much as this one did. I think that appreciation for the team will become fabric of the team's culture." Berry said. "I know I will tell future teams stories of how the 2020 team overcame so many obstacles, and despite the pandemic, still had the best season in program history."
About the Contributor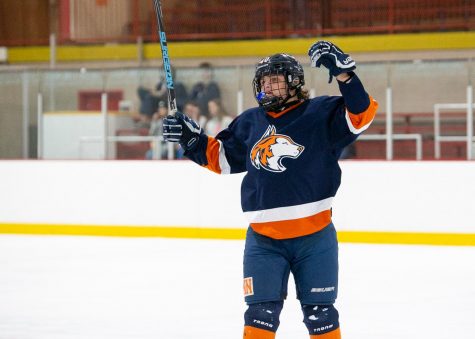 Jonathan Cunningham, Sports Editor
Jonathan is a senior in his first year on the Arrow and first year at Utica. Last year, Jonathan attended school in Naperville, Illinois, he is excited...