Girls Varsity Swim Team Racks Up a Good Season
Girl's Swim finishes out with an undefeated season and being titled MAC Blue Champs
Girl's Varsity Swim team finishes off their season with being undefeated for all six of their meets. The sophomores, juniors, and seniors all out in great effort and team work to do this together.
"Swim season this year was different then what were used to. We started off the season conditioning outside in the fields behind Utica, and to swimmers were not used to that we usually start straight in the pool, but the pool was not open until 5 weeks later," said senior Selena Sulaka. "We were all behind schedule but we came a long way to where we are today as 2020 MAC Blue Division Champs."
Girls made lots of new friendships and memories on this team this year, especially with working through such a great season.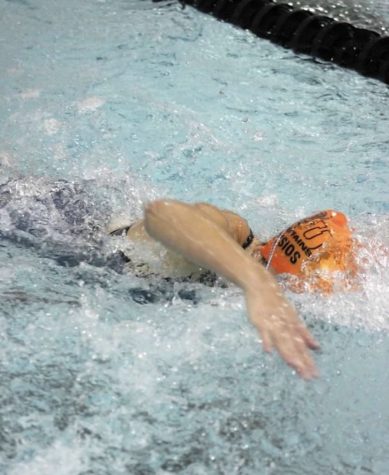 "The season went pretty much as great as it could. A couple of my favorite memories were at the end of the meets when we would all be together waiting to hear the final score and then we would and jump up and be so happy when we would win," said sophomore Ella Cooke. "Another one of my favorite memories was winning divisions and all of our coaches jumped in the pool. I am so proud of my team being undefeated and I am so proud of the seniors and their hard work that they all put in."
"We came undefeated and determined to finish the season cautiously and using all the precautions we needed to safely continue to swim," said Sulaka. "Yes, there were a bunch of rules put into place this year, but in the end we had a lot of fun, and for it being the last season for me I'm going to miss swimming with all the girls and I'm gonna miss being apart of the Utica High Swim Team."
The girls worked hard to get the season that they did this year, and it was very much well deserved.
"This team just beat L'Anse Cruese 102-55 and are the MAC Blue champs with a 6-0 record," said principal Thomas Lietz in an Instagram post. "Well done ladies!!"
With the seniors leaving, they left a good footprint on all of the other girls on the team, hoping for better seasons to come in the next years for Utica.