Online Shopping Is The New way to Shop
How has the Coronavirus changed shopping, and how are businesses liking it?
Shopping in crowded malls and department stores are a thing of the past, as the coronavirus has changed the way we do things throughout the world.
All types of businesses have been hurt throughout the coronavirus. This is because when everything was shut down and no one was able to leave their homes because of quarantine, people were not able to shop.
This especially hurt the small businesses. Large businesses have people buying from them all over the world because they have online website to sell their products. However, small businesses might not have that. Because of that, the small businesses were not making any money for all those months stores were shut down to the public.
However, since the stores have been shut down to the public, people found a new way to buy their clothes or groceries without having to go to the places.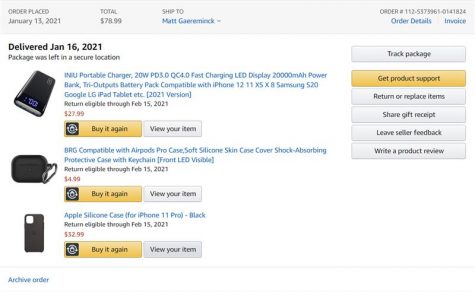 Online shopping has changed peoples lives. People can now shop without leaving their homes. This is very helpful during the pandemic because those who are scared of being sick or getting others sick can relieve that fear because they now have the option of online shopping.
There are many different opinions about online shopping and going in person to the stores. Some people love online shopping, and others do not.
"I think online shopping is more difficult than going in store just because you can't try things on and see what it looks like on," junior Brianna Lafever said. "but I like it now, that way we don't have to shop in person and can see things before we go into stores if we do go in person."
Online shopping for some can be difficult because they cannot try on the clothes they want. This makes it hard buying things, because people do not want to get the wrong thing, or think it looks good when in reality it does not.
However, some people really enjoy online shopping just because of those reasons.
"I actually enjoy online shopping a lot because I don't have the time to go to the mall to get what I want," senior Matthew Gaereminck said. "Sometimes what I get in the mail is a complete surprise to me, and it's really funny."
A lot of people, but mostly teens, have started to really enjoy online shopping. Adults shop for needs, teens shop for the enjoyment of getting what they ordered, and they enjoy having the money to get what they want.