The importance of masks
Masks required for back to school
Masks, right? Everyone hates them. Some more than others. Some think it's their constitutional right to not wear one, others because it gives them acne. Regardless of how people feel, masks are required statewide, and will be required when students return to in person.
Some believe that because Michigan let up on the mask mandate, they don't have to wear masks anywhere, which isn't true. Everyone will still be required to wear masks in businesses and schools, as well as other buildings and events that enforce it. Many have questioned whether students will be required to wear masks. The reason kids will have to wear masks is because they can still get ill even if they aren't high risk. Those who vape or have weakened immune systems are at a higher risk of getting Covid-19.
Wearing a mask inside school is different than in a restaurant because in restaurants there are options to sit outside, better ventilation inside, and people have the ability to sit or stand farther apart. There isn't a lot of that in schools and the spread that will arise from crowded hallways, sharing desks, and students taking masks off around friends, will create more cases and more sickness even though students are told to "stay safe."
When in-person learning resumes in November, students will be putting themselves, their households, and their loved ones at risk, so it will be very important that face coverings stay over the nose and mouth, are disposed of or washed properly, and the correct type is used to ensure that the masks are doing their job.
With cases going up every day and schools opening regardless, Utica is sure to have an influx in cases soon
after students are brought in. Even though there's talk about designated hand washing and sanitizing times, it could be near impossible for the custodial staff and
teachers to sanitize as often as necessary.
Especially now with the rumor of passing time being cut shorter, some speculate that the custodial staff won't be able to keep up in cleaning every single room and bathroom.
In the back to school plan released at the start of the semester, the district noted that they would have to hire extra cleaning staff, but who would want to be a custodian in the middle of a pandemic? Hopefully they find people that do. Staff and students are also unsure when the cafeteria will be cleaned between lunch periods. In the recently released return to school calendar, each lunch period ends at the same time the next begins, so when will there be time to clean tables? All of these loopholes just further prove why the use of masks will be so important come Nov. 9th. Without the guarantee that the school will be sparkling clean at all times, the virus will have an easier time spreading person to person, and can infect students at a faster rate than previously believed.
Opinionated young adults who don't believe that Covid is a "big deal" are the main influence towards the uproar in cases, and once they are thrust back into the public school environment will be the cause of a viral community spread if they choose not to follow social distancing and mask guidelines. Wearing a mask has been found to reduce the transmission rate from an infected person to a healthy person down to 1%, and would still prove effective even when students can't social distance in the classroom.
Due to the somewhat loose guidelines, it will be the teachers responsibility to enforce proper usage of masks. Students worry about not having a senior year, but this is the only way to surely get one.
About the Writer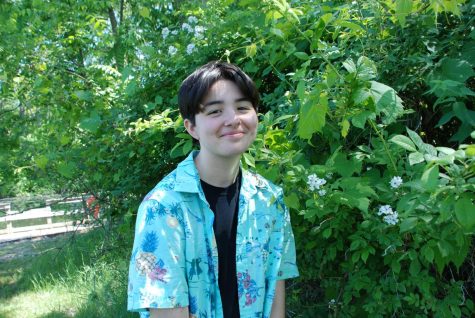 Oliver Gamez, Copy Editor
Oliver Gamez is a senior at Utica and it's his second year on the newspaper staff. He enjoys volunteering at animal shelters, studying philosophy, taking...