Celebrating New Years Eve Safely During COVID-19
New Year's Eve. A day to spend with family and friends, celebrating the past year of our lives, while looking ahead to our next chapter. COVID-19 has impacted all of our lives this past year, changing our outlook on everything.
The way we interact with people, the way we go to school or work, even altering our everyday tasks to a new normal.
As New Year's is such a meaningful holiday, most would consider this devastating to their traditions, though there is hope.
Throughout this year we have learned how to come up with creative alternatives for daily tasks, and we will be able to do the same for this holiday as a final hoorah of 2020.
The ball drop Is the most widely known and streamed event on New Year's each year. Located in the heart of New York City, artists perform until the clock strikes midnight and the giant sparkling light up ball is dropped from the sky.
This year, the ball drop will look very different due to the pandemic, but the show must go on. The New York City New Years Eve ball drop will be held virtually and streamed for all to see.
The students of Utica have a wide variety of ways of spending the holiday. Junior Sean Elechicon will spend the whole day with his family, playing video games with his brother in the morning and watching the iconic ball drop at night. "New Years for me is a lot of family time" Elechicon said "and we stay up all night to watch the live countdown from NYC."
Other students are not as fortunate as Elechicon and do not have the privilege of spending the holiday with family. Senior Autumn Baldridge said her only plan was working at her job. "I don't exactly have Anything specific planned for New Year's Eve because of the pandemic" Baldridge said, "But I do have to work that night, Which I don't mind at all because I love my job and everybody I work with."
To many, New Years is a sacred time of reflection and celebration. Junior Jordyn Wurth said that she was spending the holiday with somebody who has a long-lasting impact on her and a lifelong friendship from her past. "I haven't really thought much about what I'm doing that night, but most likely I will spend it with my childhood best friend at her house." Wurth said.
Armada junior Sam Winne Describes her New Year's resolution as an opportunity for self-growth, using methods widening her horizons and working out.
For the holiday though, she will be indulging in a nostalgic final meal of 2020. "On New Year's I plan to fill up on Capri Suns and mozzarella sticks, to remind me of my childhood."
This holiday means so much to so many people, and though this year will be different and difficult, as long as people put in the work, it will be a night to remember.
About the Writer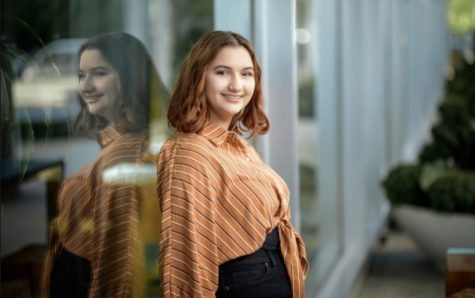 Grace Leonardi, Editor
Grace Leonardi is a senior at Utica High School. This is her second year on the Arrow staff. She is so excited to be an editor this year and has a passion...