Students go back face-to-face
Staff reflects on how their first day of face-to-face school went.
The first day of school is coming up quick, even though it's the middle of January.
Students at Utica haven't had any chance to walk in the hallways yet, but on Jan. 19, UCS is starting back up with having face-to-face learning take place.
It's what we've all been waiting for, but we all are stressing about it, too. The big worry of possibly catching COVID from school, brining it home to your family and friends- that's obviously a down side, but getting able to se your friends, teachers, being able to just sit in a classroom- we all can't wait.
"I'm really excited to go back into school," said senior Dillon Wagner. "I don't know if I fully am confident that it will last, though. I feel like this will only last for a week, then the realities of COVID will take over and we will all go back to our new normal."
The first day back to school was not what everyone was expecting. School was nothing like how it was last year, with everyone now wearing their masks, the new way of walking through the halls- it's all something we need to get used to.
"I would say that the first day was stressful at first, because I didn't know what to expect, but by the end of the day I wasn't as stressed because I got to reconnect with some classmates and teachers," said senior Riley Greenwood. "It was exactly how I expected it to be though, overall, not as bad as I thought it would be."
The hallways are now marked with arrows to make a one way hallway. Students and staff are only allowed to go around the school in the direction that the arrows point. This means, if your class is right next to you, but isn't in the direction that the arrow is pointing, you have to walk around the whole school just to get to your next class.
Lunches are now different, too. Students are provided a free lunch, all they need to bring is their ID. The seating arrangements are dependent on whatever class you have before your lunch. Students all receive a number that corresponds to the seat number that you have to sit at during lunch. Students are all socially distances, and you are allowed to take off your masks to eat and drink. After lunch is over, everyone gets a alcohol wipe to clean off their seat and the table area around them.
"Being back face-to-face is so weird, especially when I think about how school was last year," said junior Olivia Pinto. "With only half of the students actually being in class, everyone wearing masks now, and the cleaning procedures- it's all so new and different, it'll take a while to get used to."
Classrooms are socially distanced to the best of the teacher's ability. It all depends on how many students are in your class. For some, their classroom is empty with only 5 students, for others, their classroom has almost every seat filled. Before class starts and after class ends, every student is provided an alcohol wipe to clean off their desk and laptop.
"I don't think that school s going to last because I think that the kids who don't care will ruin it for others," said senior Ava Denton. "I love being back in school, but I think that it would be safer to be home."
"Coming back was nerve racking and yet exciting. When the students came in," said teacher Bryant Sebastian, "I found myself filled with joy to see and meet them, more so than I was expecting."
About the Writer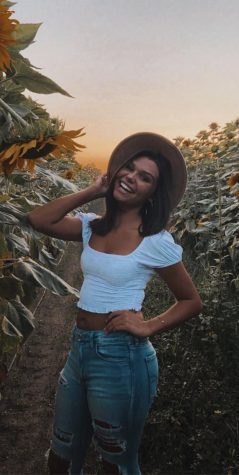 Brooklynn Hathcock, Digital Editor-in-Chief
This is Brooklynn Hathcock's second year on the Newspaper staff, she is a senior this year and is also the Digital Editor in Chief. Brooklynn has committed...