School Store expanding food sales soon
Merchandise, Jet's Pizza, Starbuck's and more available
Fast food options will be available in the cafeteria beginning next week at the Chief Connection. Although limited items were sold this week, students are excited for the addition of pizza.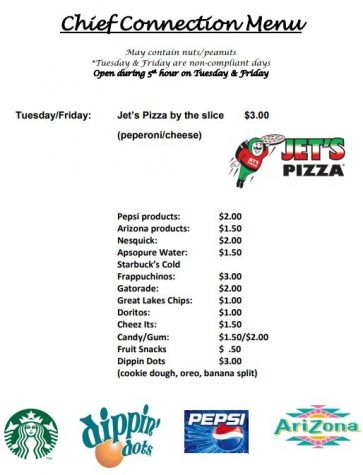 The school store will be open Tuesdays and Fridays during all lunches, and Jet's Pizza will be sold by the slice for $3 each.
"We are guessing on how many we'll buy," teacher Dana Boice said, "so we are starting with 50 slices."
Various drinks, including Starbuck's Cold Frappuchnios,  will be sold, as well as snacks, ranging from Dippin' Dots to Great Lakes Chips.
The store also sells merchandise, such as Utica apparel.
"January is 25% for all merchandise if you want to shop," Boice said. "My students are ordering new merchandise today with our sales rep, so stay tuned for new items."
The store also has a site set up for anyone wishing to shop for merchandise online.