Chick-fil-A Grand Opening
Chick-fil-A opens their new location in Shelby Township
Everyone has heard that Chick-fil-A, one of the largest fast food restaurants, was going to open up a new location in Shelby TWP. on Jan. 28.
In the past, Chick-fil-A would give the first 100 customers a free meal every week for a year at every grand opening location, but due to COVID restrictions and safety protocols, Chick-fil-A decided to hold that off this year.
Instead, they gave their "first one hundred" to teachers and doctors. Thanking them for the hard work they put in during these hard times.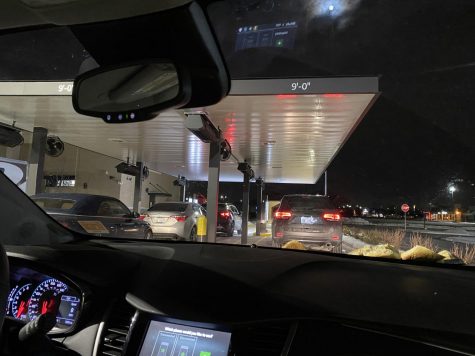 The grand opening was set for 6:30 in the morning, but people decided to camp out earlier than that.
"I was so excited to hear that there was going to be a new location for Chick-fil-A, the closest one for me is at Somerset Mall, but that's a far drive," senior Annie Droelle said. "Plus, the wait is always so long. It's so cool to have it closer to us, but I'm sure that it will be just as busy as Somerset."
Students, Brooklynn Hathcock, Annie Droelle, and Shea Hathcock, decided to camp out in the parking lot at 12 in the morning, waiting six and a half hours to order breakfast.
"At first it was so much fun, we played UNO with kids in the cars next to us, we listened to music, just hung out for a while. After two hours, we all started to get really tired," junior Shea Hathcock said. "We all took naps, but one of us would stay up to keep a look out in case anything was happening."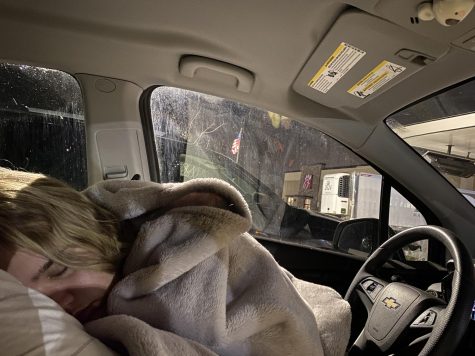 Security stayed in the parking lot, keeping cones up blocking the entrance to the drive-thru lanes, but at 4 in the morning they took them down for cars to start lining up.
The line started to pack up, cars started to fill up the parking lot and slowly led to Hall Road. Cars were directed to form lines in other areas of the parking lot for space for everyone starting to arrive.
Knowing the "First 100 Customers" award this year wasn't taking place due to the pandemic, managers walked out and greeted most of the first cars in line with a mug that says "Chick-fil-A Grand Opening", and inside was a cow that said "Eat More Chicken".
At 6:30 in the morning, Chick-fil-A finally opened.
Workers cam out and greeted everyone, then started to take their orders. The way that they all handled everything was very organized so cars wouldn't be backed up.
They had certain people that would have the jobs of taking the orders, giving out the orders, directing traffic, even workers that just said "goodbye".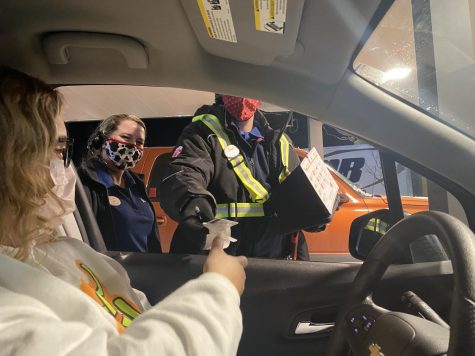 "I don't know if it was quite worth it waiting six and a half hours in the parking lot, but I'm happy we did because it was such a fun experience," said Droelle. "I'm sure that from now on, Chick-fil-A will be packed every day, all day."
After the opening day, the lines at Chick-fil-A have been so backed up.
There are two entrances, and workers weave the cars together from both lines to form one at the drive-thru.
"My friends and I have gone back to Chick-fil-A since the grand opening, and the wait for the drive-thru lines are so crazy," Hathcock said. "People say you have to be smart with which one you enter through, one could be only a hour wait while the other is two or three hours. Even with knowing that, it is still such a big line to wait in."