Utica makes the perfect place to sled
Utica students take advantage of this crazy snow storm and head to the Utica Parking lot to sled
The temperatures weren't all that bad this season, all winter, there has been barely any snow, all of us nearly had a "green Christmas".
The news has been telling us that there will be a polar vortex coming our way in a week or so, and they didn't lie. In fact, it came even sooner.
Last night, snow was pouring in, starting at 8 at night. This stow storm wasn't supposed to stop until 3 in the morning.
Inches were adding up quick, so some students took advantage of this weather and decided to go out and sled.
"We were all so excited that it was snowing, the idea came up spontaneously, we just said it and went with it," junior Jack Droelle said. "I'm really glad that we did because it was so much fun to g sledding at Utica, we went down the hill that was by the stairs."
With it being late at night, parks closed at dawn, so these Utica students had another place in mind to go sledding… at Utica High School.
Students Brooklynn Hathcock, Annie Droelle, and Jack Droelle all went sledding, made snow angels, and overall had such a great time.
"This weather is what I was waiting for since summer ended. It has been such a dry winter, but this blizzard came out of no where, and of course we couldn't miss out on the perfect chance to go sledding," senior Annie Droelle said. "We were thinking of so many places to go, but they were all closes, so we thought Utica would be a perfect place to go."
About the Writer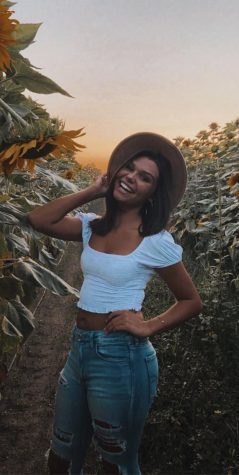 Brooklynn Hathcock, Digital Editor-in-Chief
This is Brooklynn Hathcock's second year on the Newspaper staff, she is a senior this year and is also the Digital Editor in Chief. Brooklynn has committed...