Class Act Chieftain Award
Even with COVID, Utica decided to keep the Class Act Chieftain Award for students this year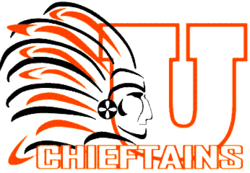 Students last year got the chance to be nominated for the "Class Act Chieftain Award", which is a special designated parking spot that is right in front of the main doors.
This nomination is for students to show off their important and special things that they have done this year.
This Award is given to a picked student for a month, then when the month ends, a new nomination will happen.
Students didn't even have to pay for parking this school year because of COVID, but now that school is back in session and all juniors and seniors can drive- the parking spots are filling up.
To be nominated for this Award, students must look into their school email and look for the email that Leitz sent out on Feb. 9. In that email, there is a link attach for the Class Act Chieftain Award nomination form.
You can click here for that form.
In the form, students will fill out questions about their grade, who they are nominating, and why they should be nominated.
From this, Lietz will go through all of the nominations, pick his favorites, and then announce all of them in the morning, but picking the official "Class Act Chieftain" for the month.