Saying goodbye to students' favorite Netflix shows
On a streaming service that's been around for quite some time, the television and film selection is bound to experience some changes. Some shows and movies will come and some will go.
Whether it has to do with a contract or making room for more Netflix originals, there can be several different reasons something may leave a streaming service like Netflix. One common reason being with the company's contracts running up.
Eventually, when the contract does finally expire, there is usually the option to renew it or to let the show or film go. Because of these circumstances, many series and fan favorite films have made their departure from the platform.
Some series' that have left the streaming service are "Dexter," "One Tree Hill," "That '70s Show," "Gossip Girl," and "The Office."
Many movies have also left Netflix including "Pride and Prejudice," "One Direction: This is Us," and "The Notebook," which made it's way to the platform on Valentine's Day before, but left later on.
Many people were bummed to hear the popular NBC sitcom "The Office" left the well known streaming service. The nine-season long comedy instead became available on another streaming service, Peacock, a new service from NBCUniversal. The show aired from 2005-2013, but held up being a regular on the Netflix most-watched list.
Senior Haley Smith is a huge fan of the series, even rewatching it many times.
"I'll usually rewatch it in order but sometimes I just like watching my favorite episodes," Smith said. "I stopped counting how many times I've rewatched it after 20. I wasn't that upset [when it left Netflix] because I have peacock and they have a lot of extras and bonus scenes so it's cool."
It seems Smith isn't the only one to using multiple platforms as a form of entertainment. Senior Mary Tuzinsky, who is also a fan of "The Office," is no longer rewatching the show since it's Netflix departure.
"There are no shows I'm currently rewatching," Tuzinsky said. "Right now I'm just watching YouTube because Netflix has gotten kind of boring."
One film that's made it's Netflix departure, was "Pride and Prejudice," which came as a bit of a bummer to senior Shelby Romeo.
"It's a great movie in my opinion," Romeo said. "Especially because it's a romance movie and they're my favorite."
Senior Lindsey Killian was disappointed to see "Skins (UK)," which first aired in early 2007 leave the platform.
"I was only on the second season and interested in it," Killian said. "Then it got taken off."
With shows coming and going, only one thing is certain; whether you use Netflix, Hulu, YouTube, regular TV, or another streaming service, there are many options out there.
About the Writer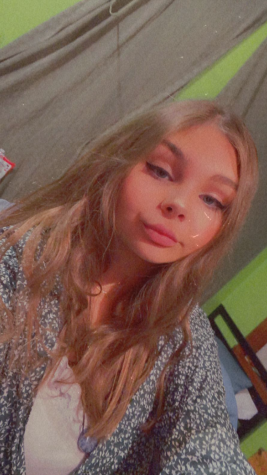 Mackenzie Olmstead, Print Editor-in-Chief
Mackenzie Olmstead is a senior at Utica. It is her third year writing for on the school's newspaper staff and this year she is the Print Editor-In-Chief....