Chieftain Charity Week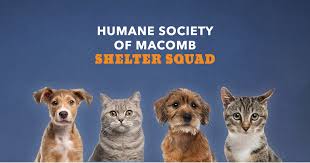 During the week of Oct. 25, a special event will take place that gives students an opportunity to give, while also providing an opportunity for the school to give back to the community.
Teacher Andrea Solomon, who is the sophomore class sponsor, organized the event with teacher Suzanne Greenfield.
The event benefits the Humane Society of Macomb on 22 Mile Road and giving away food and toys for all the animals at the center.
"Students will be able to purchase entries of a variety of buckets at lunch," Solomon said, "ranging from gift cards, athletic gear, movie and theater stuff, and Michigan vs. Michigan State merchandise."
Student Council will be selling entries at lunch for $1 for the listed baskets above and winners will be announced through the PA system.
"Our hope is to raise $1,000," Greenfield said, "to become one of the main fundraisers for the Humane Society."
Animals will also be featured during the event.
"There will be information and pictures," Greenfield said, "alongside the baskets for adoptable dogs and cats."
Aside from accepting donations from students, posters and flyers will be hung up around the school to get more volunteers for the Humane Society itself.
Students have expressed excitement for the fundraiser due to the fact that they're getting rewarded, while also saving lives.
"I'm very excited about Chieftain Charity Week," junior Makenna Riggs said, "because I know I'll get to help animals."
Chieftain Charity Week will occur Oct. 25-29 and will feature basket raffles to help dogs and cats in need at the Humane Society. Tickets will be sold at all lunches by Student Council with photos of the dogs on the baskets to show which animal will benefit from the funds.