Veterans Day Honors
Teachers and school resource officer recognized for their service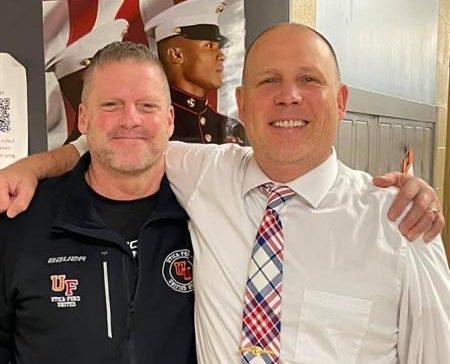 Veterans Day began with a special announcement from principal Tom Lietz, recognizing three staff members who served in the military.
Teacher Jeff LaPratt was a Corporal in the United States Marine Corps.
"Veterans Day is important because it provides an opportunity to say thank you to the men and women who serve our great nation. Their willingness to serve and sacrifice got the rest of us. True patriots and warriors," LaPratt said. "I graduated from boot camp 31 years ago here has now been a Marine Corps protecting this country for 246 years. Marines put on their dress blues, have balls, and celebrate all over the globe. There is food, dancing, birthday cake and smiles for everyone. They always do three things at the birthday balls: read John A. LeJeune's message, recognize the youngest and oldest Marine present, and cut the cake using the ceremonial sword. It's a great tradition."
Teacher Ric Essad is also a veteran, and was a sergeant serving in the Army,  2/75 Ranger Regiment.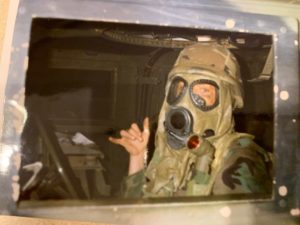 "Soldiers are humble, they do what they do because they believe in keeping the freedoms, the way of life in our country, and helping free the oppressed around the world," Essad said. "It's a day to remember that it takes those special people, not me, but all those that give to others but ask for nothing in return."
Teachers weren't the only veterans on staff, as Shelby Township resource officer Leslie Heisler spent 10 years in the US Army Reserve as a Military Police Officer.
"Veterans Day is a day when we all get to celebrate the lives of every man and woman who have ever put on a military uniform, and have sworn to protect the freedoms of the rest of us, even at the risk of their own lives," Heisler said. "I feel very blessed to have been able to serve my country and my fellow Americans."