Junior contributes to new downtown mural
Sarah Monticciolo partners with local artists to bring new life to Utica
It's not every day that a high school artist teams up with the Detroit Institute of Arts, but that's exactly the opportunity junior Sarah Monticciolo was recently given.
Many students made their way to downtown Utica before the homecoming dance to take photos in front of the city's many murals and artwork in the tunnel under Hall Road. One of the most popular locations was the floral-themed mural that was recently added to the wall of the Utica Fire Department, and Monticciolo was one of the students tasked with creating the mural.
"Mrs. [Jennifer] Allore told us her friend needed art students to help her," Monticciolo said, "so we wrote our names down and Gail Borowski, an art teacher at Davis Junior High, contacted us about helping her with the mural. "
The mural was created as part of the Detroit Institute of Arts for the Partners in Public Art project, and its design includes ten different types of flowers, a firefighter's ladder, and a silver "U."
Each flower represents something different. Amaryllis represents pride, lily represents courage, carnation represents never forgetting the city's history, magnolia represents the love of nature, dahlia represents the dignity of Utica residents, the iris represents wisdom, tulip represents love, zinnia represents never forgetting absent friends, chamomile represents energy in adversity, and rosemary represents remembrance.
The ladder and "U" also hold meaning. The ladder stands for the city's firefighters, and the "U" honors Utica High School. Each object and its symbolism were chosen after the Detroit Institute of Arts surveyed Utica's residents regarding what they liked best about the city.
The project was started on Aug. 15 and was not an easy task due to the mural's large size.
"It was difficult to do at some points," Monticciolo said. "It was pretty hard to see exactly what you were doing up close."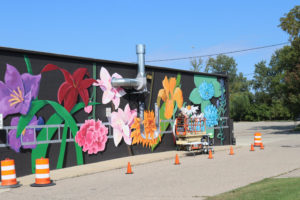 The weather was also a challenge during the mural's creation.
"It was really hot out," Monticciolo said. "That definitely made painting a lot harder."
Despite these challenges, Monticciolo, Borowski, and the rest of the artists continued to work for weeks on end. To the city's excitement, the mural was finally completed on Oct. 4.
The mural was received well by residents and students alike.
"The mural looks lovely and I think it brightens up Utica quite a lot," junior Sophia LaBrecque said. "I've known Sarah since at least second grade. She's a great friend of mine. She always has been very artistic and never fails to impress me with every piece of work she creates. I love having art classes with her."
The artists have been recognized and appreciated for their immense talent in painting.
"The artists worked very hard to make the mural as beautiful as it is, and it definitely pays off," LaBrecque said. "I think Sarah was a great fit for being one of the mural artists because I know she loves to make art involving flowers and can do it very well."