'Courage To Dream'
Teacher Jennifer Allore inspires students, community with her new art piece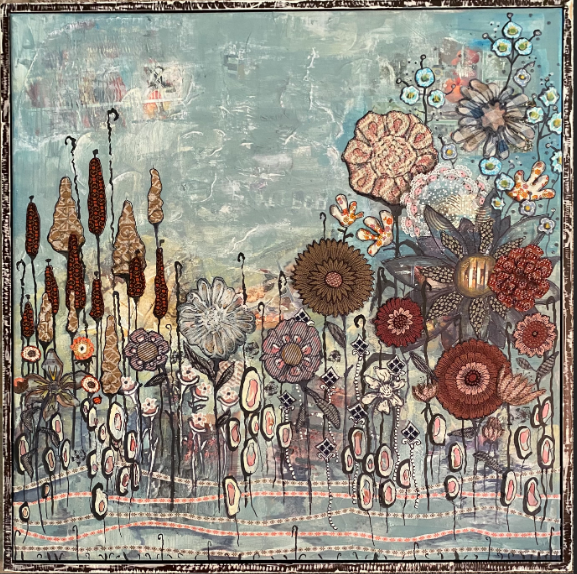 An artist outside of the classroom, teacher Jennifer Allore submitted one of her pieces, titled "The Courage to Dream," into The Explore Art Show. The theme is having the courage to create, without being afraid of what others think of your work. Allore's work is meant to encourage originality and creativity. Although people have different opinions on each other's work, her piece represents the importance of following your own dreams and passions.
"If you don't take chances and just stay afraid of others' opinions," Allore said, "your art will remain stagnant and you will never grow as an artist." The entire piece was made from watercolor, fabric paint, acrylic paint, markers, and paper. All of these mediums were recycled, upcycled, and second-hand materials.
"I believe we need to do all we can to save our planet," Allore said. "There is so much waste; I like to reuse things. It is helpful when you reuse so you don't contribute to more waste."
Not only has her art made an impact on Utica, but also in her community, as Allore enjoys making art both inside and outside of school.
"I have volunteered my artistic abilities to places outside of school," Allore said, "like my church."
Using what she teaches outside of school has inspired many other teachers and students to follow their passions.
"Mrs. Allore is one of the best educators I've worked with," principal Tom Lietz said. "She is a great teacher because she participates in the work that she teaches. I think it's amazing."
Students in Allore's art class have learned how to use their own originality and creativity and turn it into art.
"I think the fact she does art on her own time means that she is able to come up with her own techniques," junior Veronica Schick said. "This allows students to learn less traditional and more unique ways of making art."
Students say Allore pushes them to find creative concepts and to make something they're proud of.
"I like to see my students make something. I always push for originality and creativity," Allore said."I just have a passion to create and see where my imagination takes me."
Although it can take courage to express yourself through art the passion to create and fulfillment will be worth it in the end.
"My passion to create is stronger than what people think of my work," Allore said. "There will always be people out there who may not like my work and that's ok."