Homecoming moves outside for assembly, dance
Homecoming at Utica High kicked off on Oct 4. With student and staff anticipation high, lots of confusion was in the air as amid the pandemic, as things had to be changed around to follow health guidelines. Still, the week went on as spirited as ever and themes were selected to show Chieftain pride each day of the week.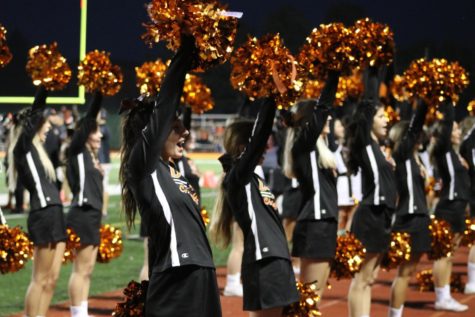 "I think it's been great," principal Thomas Lietz said. "I think student council and everyone else that helped set up did an awesome job. There were lots of challenges and roadblocks, but they made it work."
School spirit was one major thing from this week that remained the same. Almost all of the students that showed up for school each day tried their best to fit the part, with some going above and beyond to show their pride.
"Utica doesn't mess around," senior Anthony Chirco said. "Spirit week is always the best, and really elevates homecoming week for everybody, not just the football players."
More specifically, as Wednesday arrived, so did all of the schools maximum energy, with that day being our delayed comp day due to weather conditions. It was a loud day for the students, nonetheless.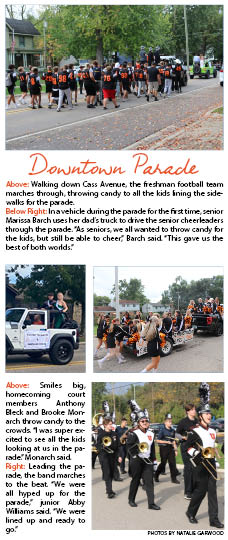 "Quite frankly, I think was the best competition assembly we've had," Thomas Lietz said. "I liked it outside, I think its a much better venue than the gymnasium. Hopefully, we'll actually look to continue to keep it out there."
As spirit week came to a close, the homecoming football game began. This was the most crowded game at Swineheart all year, and the energy reflected on the team with them winning in a landslide victory.
"The feeling was amazing," senior Alessandro Van Simaeys said. "The whole team played with a lot of energy and the crowd was the loudest I've ever heard it."
The day after the victory, the official homecoming had began. This is usually a day where all friends get together for the dance in the school gym, but this year it was outside for the first time ever, due to COIVD-19 protocols to keep everyone healthy amid the pandemic.
"I don't think it's safe to have a thousand kids jumping up and down in a small space," Lietz said. "I just don't think it's safe."
Regardless of it being outdoors, most of the students showed up to the Hollywood-themed dance and enjoyed it in a Hollywood party fashion.
"The dance was a lot of fun," senior Anthony Bleck said. "It was weird because it was all outside this year, but I still had a really good time.