SNOWBOUND
Michiganders take advantage of wintry weather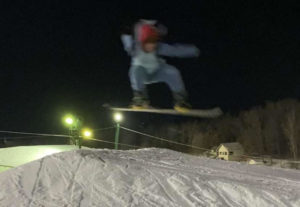 With the winter season in full swing, the transition between fall activities to winter activities has begun. There are limited ways to stay active during the winter season, and as a result, many people turn to winter sports. This varies from snowboarding, to skiing, sledding, and several other activities, such as tubing. There's multiple activities available for all types of people in order to create some entertainment with the cold whether.

Most people go out and participate in these sports for fun and entertainment purposes.
"My favorite thing to do is go down the mountain really fast," junior Jeffrey Jones said. "I try to go as fast as I possibly can."
Some people also find that these sports can be a good alternative to traditional exercising.
"I love the sport," Jones said. "It really healthy and active for me."
This is not only good exercise, but it's also a way people choose to spend time with their friends.
"It's always fun to go out to the mountains," senior Anthony Bleck said, "especially with friends."
One big negative to these sports, however, is the price of participating in all of them.
"It's a very expensive sport," Jones said. "Between all the gear you have to buy and the lift tickets every time you go, it really adds up."
Even though this is the case, winter sports are still a healthy way to spend a winter, and many people choose to do so.
"I've been working on learning to do a back flip for a while," Jones said. "I'm hoping to be able to learn it by the end of the winter season this year."