Indoor Track and Speed Club at Utica!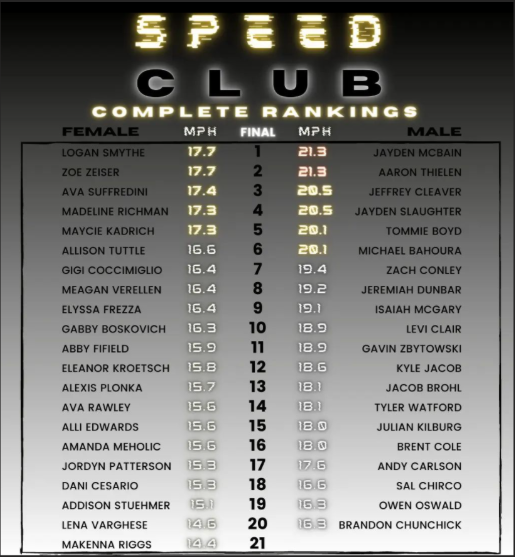 Is there a sport you play? Something that you need to train for? Maybe it's a run, maybe it's a team that you want to be number one in. Whatever the reason, it'll more than likely take work to do. Luckily, Utica offers just the thing, the Indoor Track and Speed Club.
"I do it to help prepare," sophomore Tyler Watford said, "for track and football."
For the students in sports of some kind this can especially help you. However, this does not mean that it would only be beneficial to people in sports.
"Anyone can participate," sophomore Tyler Watford said.
So even if you have nothing to train for, staying physically active has numerous health benefits. It can also help with your running ability.
"It helps to get full strides down for running," sophomore Owen Oswald said. "and it also helps to loosen you up."
Outside of the health benefits it can also help form and performance in sports.
If you want somewhere to meet people and make friends then this club may be the place for you. Do you want an environment where you can improve yourself while also making lasting relationships?
"It's very fun and you get to meet new people," sophomore Jadyn McBain said. "I met a ton of new people."
If you're less interested in sports and more interested in meeting people this is still a good option for you.
Some people don't like sports not because of how good or bad they are at them, but because sometimes it's hard to not lose motivation. But there are ways that you can maintain your motivation.
"A way I motivate myself," sophomore Owen Oswald said, "is trying to catch everyone in front of me."
Owen just focuses on passing whoever is in front of him, his motivation comes from passing them. Anything can be your motivation, and anything can be your goal. Every person in front of Owen is just another goal to overcome.
To take this club you don't have to view the club as your goal, your goal can be anything. However, this is something you could view as training or something to do to improve yourself for whatever goal you do have.
Sports have many benefits for students, an opportunity to stay healthy, and it can also lead to scholarships.
"I'm in the club to get faster," sophomore Brent Cole said, "but also, to train to get a scholarship." Through determination anything you start out to do today can be done by tomorrow.
This club may not be a big group of people however it's a fantastic space and has many great people in it. The club itself gives many opportunities to make friends.
Stamina is sometimes looked over, forgotten, not made a priority, whatever it may be. But going through this commitment would allow you to enhance your stamina among other things.
This club's only goal is get you more prepared for whatever you choose to do next. If you want to be healthy, physically ready for a sport, or whatever it is, this club can only help.
"I would encourage underclassmen to join this club, especially if they're in sports," senior Aaron Thielen said. "It is extremely helpful for staying conditioned and to become faster, which is helpful for sports like football, soccer, basketball, and track."
Seniors are graduating, the year is drawing closer and closer to an end, soon underclassmen will be all that's left. This club may no longer be available for seniors to participate in, however juniors and sophomores are free to join and train.
"My speed has improved pretty steadily since the start of speed club till the end," senior Aaron Thielen said. "I think I lost around 0.15-0.2 off my 40 time, which is a pretty good improvement." You can improve from wherever you are if you put in the work and effort. There is nothing that you can't do if you