CALL ME IF YOU GET LOST
VIP access to Tyler, the Creator show offered swag and unique experience, as performances captivate crowds at Little Caesar's Arena
The night of Tyler, the Creator's tour stop was arguably the greatest night of my entire life.
In order to have the best experience possible, my best friend and I decided to purchase VIP tickets to this concert. We didn't regret this decision for a second.
VIP access gave us early access to everything at the concert.
We also had an easier opportunity to get to the front row of the concert as VIP ticket holders.
Once we got to our position on the floor, it quickly packed together and everyone was getting pushed all around by people trying to get closer to the front. This was happening before the first song had even started to play.
In order to create lots of hype around his concert, while simultaneously bringing up and coming rappers more popularity, Tyler had three different artists perform before he finally would perform himself. These artists were Teezo Touchdown, Vince Staples, and Kali Uchis.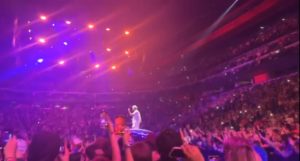 All of these artists did a great job performing, and made sure to take advantage of the opportunity. They all had creative different sets for their performances, which pertained to their music and the themes they surrounded it with.
Finally, after hours of opening acts, Tyler began the act that everyone was waiting for.
It began with a pastel green 1930 Rolls Royce Wraith being lifted through the floor out onto the main stage, and Tyler was singing from inside of it.
The main stage looked like a light blue mansion, that had two staircases to get to the second floor of the mansion during his performances.
Everyone started cheering louder than I had heard for anyone else the entire concert.
He then stepped out of the car and continued to sing his next song.
The most interesting part of Tyler's concerts is the dedication that his fans have to his music. I didn't see a single person, myself included, that didn't know all the words to his entire album. Even when he began to sing some of the songs from his earliest albums, about 90% of us knew the words to his songs.
The craziest parts of the concert happened when Tyler sang songs that had heavy bass drops. Everyone got ready for the beat to drop, and when it did, Tyler was surrounded by an explosion of flames on the stage.
Halfway through the show, Tyler got onto a wooden boat, and drove it across the middle of the stadium. This was one of the most unique things I've ever seen and it just added more to the aesthetic that Tyler was going for at this concert.
Once he crossed the stage, he landed on a second stage across the stadium. It was filled with tall, dry grass, and he performed mostly older songs on that stage.
Eventually, he returned to the original stage he started on by boat again, and played some of his most popular classics.
The concert was a great experience and will likely be the best concert I will ever go to. I don't suspect I will have a better night than that one for years to come. I hope I can go to another one of his concerts in the future, as he is my favorite artist.