Michiganders catch Spring Break Fever
Whether traveling to sunny skies or relaxing with friends, students enjoyed the week-long vacation
As temperatures begin to increase and daylight gets longer, anticipation builds up to spring break vacation. The week-long leave of absence serves as an escape from the stresses and pressures of school or work. As opposed to other vacations in the year, spring break's warmer climate allows for much more activities available.
Even this year, the urge to get out in the sun is much greater as most COVID-19 restrictions have been
lifted in most places. People travel far and wide to get away from school or work.
"Me and my friends went to Hollywood, Florida," senior Samantha Jarbo said. "We sat out on the beach a lot and listened to music and we also went out a lot. We stayed right on the boardwalk so there were many things for us to do. It was very fun for all of us."
Even though laying out in the sun and spending time at the beach may be the way to go for most during spring break, some find enjoyment in just traveling to new places.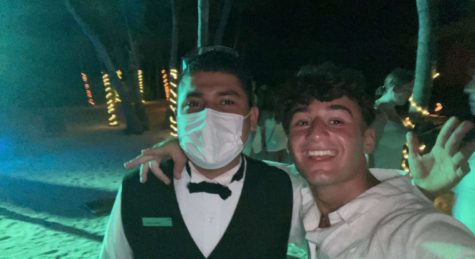 "We went to Gatlinburg, Tennessee," senior Bassam Qadri said. "We rented out an Airbnb. We went to Anakeesta Park, which is up on a mountain, and an amusement park by the name of Dollywood. We then went to a place called Ripley's Aquarium of the Smokies and we got to see penguins walk around."
Students out of school try to live the best of their lives during this vacation.