Chieftans vs. Lancers
Black and orange filled the stands as the fans welcomed our varsity chieftains on the field to play against the L'Anse Creuse Lancers. Friday, Sept. 23 was our homecoming game. The crowd was making noise, cheering on our players, and showing their excitement for the homecoming dance that was coming the next day.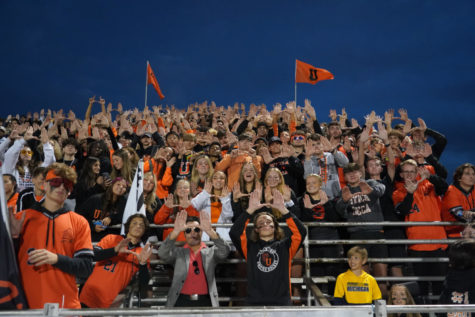 "The crowd was very loud," sophomore Brycen Thomas said.
Imagine most likely three-fourths of the school standing and yelling from the bleachers. That's a whole lot of noise.
"Everyone was jammed packed into the bleachers," junior Rita Saren said. "I had a hard time finding space to stand."
This was a heavily populated game being that it was our homecoming game. Rita and a lot of other students probably had a hard time finding a spot to stand in the student section. The gates opened an hour before the game at 6:00, and it definitely filled up very fast.
"The crowd was huge. Everyone came out and showed some school spirit," junior Rose Saren said.
Rose was talking about all of the orange glitter and bandanas that she was seeing in the crowd.
Sadly, the chieftains were not having that good of a game. Halftime came around after the second quarter. The homecoming king, Dustin Gordon, and queen, Makenna Riggs, were crowned. The fans also enjoyed watching both of our dance teams along with the marching band perform out on the field.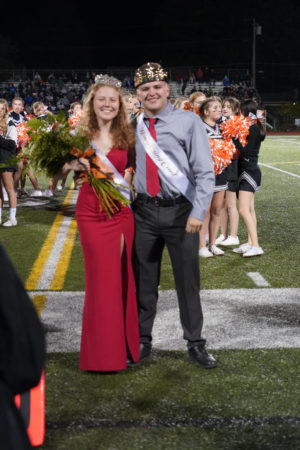 The game lasted for about two and a half hours. The score fluctuated, but the fans never stopped cheering on their chieftains. The game came to an end. Unfortunately, Utica lost to L'Anse Creuse with a score of 28-14.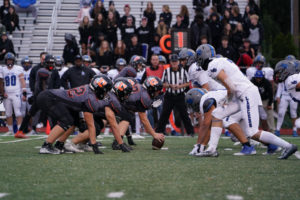 "I was upset that we lost," junior Jayden McBain-Rogers said, "but I think we will play better in our future games."
As a player on the team, McBain-Rogers giving some hope for the future proves that he cares about his team and has faith in their approaching games that they will have better game play.
"I was upset but also felt fine, we need to support our wins and losses," junior Jan Jirjees said.
Jirjees showed positivity about the team's loss, which is a good attitude to have when it comes down to winning or losing.
"I was really upset when we lost because I thought we would have won the game," junior Owen Oswald said. "Our offense needed to be better for us to win the game and we needed to not turn the ball over as much as we did."