Powderpuff game postponed
Students Confused about Powderpuff Game's Delay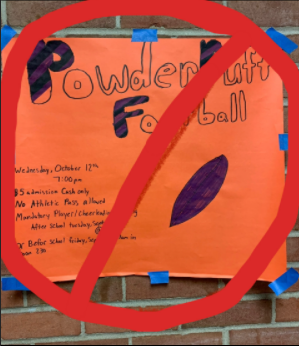 Powderpuff? More like powderbluff. The students and future participants of this fun activity at Utica High School are all wondering the same thing: When is this thing really going to happen?
The UHS annual powderpuff football game has been postponed to sometime in late October to early November, leaving students and teachers confused and becoming disinterested.
"It looked like the soccer team was going to need the field for districts," teacher Kirsten Bolitho said.
"I'm sad for the students that were so excited to be a part of it, but I know it will be a great event." 
The confusion surrounding the powderpuff game's unfortunate delay has left many students and future participants confused.
"It's frustrating because I have other sports to do," junior Jordyn Patterson said. "I need to know the schedule before so that I can actually plan around it."
"I am kind of upset about the delay," Patterson said, "because I feel like it's going to be snowing by the time it starts back up."
Students are anxiously awaiting the event and hoping that it will still take place.
"It's pure confusion," junior Cameryn McConachie said. "No one knows anything."
Students have differing reasons for being irritated by the delay.
"I'm not really upset about the delay because the cold doesn't really bother me, but for other people I understand why they're upset."
There is still so much excitement regarding the game to come.
"I am most excited because the boys are going to be cheerleaders," senior Alexandra Zetouna said.
The powderpuff game's suspension to further into the year has left students and teachers upset and confused, yet excited for what is to come. It may be the most freezing football game of the year, but the girls will play their hardest and make sure to have fun.