Construction across Utica High School
Ever had a fresh new haircut and wanted to show the world? Well, the school got its new "haircut" and underwent construction over the summer.
The tennis courts were upgraded and redesigned, the locker room got a whole new look, and the hallway that connects the lunchroom changed its look to a brand new color. Many students and staff have found the new look impressive and well done.
"The tennis court is very modern and fancy," senior Taylor Leonard said. "It gives us a good look as a school, makes us look rich, even though we're broke."
Although most of the school doesn't use the locker room or tennis court, there are some students who participate in after-school activities.
"It felt and looked completely new," senior Makenna Diem-Conlen said. "There was a lot more space and it felt a lot cleaner and up to date compared to most other high schools." Principal Tim Youngblood explains the new improvements.
"The reason to improve the tennis court is so we would have a better area to practice for our tennis team," Youngblood said. "Also, it gave us a better opportunity to make more room for better parking."
Some students would've preferred to upgrade the school's air conditioning system.
"What they should've used the money on was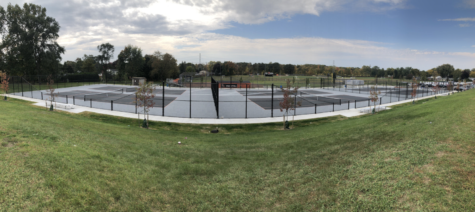 a brand new heating and cooling system," senior Nathan Richards said. "Every single room is either freezing in winter or an oven during summer."
Students and staff complained about the ongoing machinery noises throughout the day while learning.
"I was learning about the Pythagorean theorem, as we're all going to use in the future, in Mr. See's room," senior Atherna Gorney said, "but during the class, all we heard were drilling, smashing, and loud noises and it was really distracting."
Not all students are fans of the new improvements.
"When we had to come into the school for our senior registration, there were many blockades and inconveniences due to the construction. The driveway going to the main office would be blocked to a degree by the trucks and cars from the crew so it made it harder for people to get in and out easily and it took a lot longer to just get home," senior Quinn Gilkinson said. "The color in the lunch hallway looks awful. The white is very bright first thing in the morning and the color before made it feel a little old but it felt like home and warm in a way, this new color makes it feel very intense. Hope they don't make the entire school that bright."