Board of Education to approve new medical academy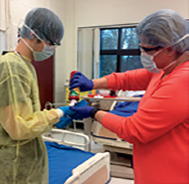 On Monday, Jan. 9, the Board of Education will be voting on the introduction of the Utica High School Academy of Health and Human Services. The specialty program, aimed at incoming ninth graders, will prepare students for various careers in the medical field.
"It's similar to Stevenson's manufacturing and engineering academy," principal Tim Youngblood said. "For Utica's academy, students can choose from three pathways."
Freshmen and sophomores in the program take universal classes, but when they become juniors and seniors, their classes change.
"Students in years three and four go into their major," Youngblood said. "Therapeutic services, rehab services, and public safety. They can go into focuses of nursing, occupational therapy, athletic training, EMT, fire, safety, that sort of thing. It doesn't mean they have to become that, but it gives a lot more exposure to those fields."
Watch the livestream of the UCS Board of Education meeting Monday, Jan. 9 at 7:00pm.
Every subject taught to students in the program relates to the medical field in some way.
"Students work in cohorts. A group of 90 come in and have the same group of teachers," Youngblood said. "All the teachers are going to try to teach through a medical lens."
The academy is expected to be formally approved at Monday's board of education meeting.