Utica-Ford unified hockey team
The team is already off to a great start, and on their way to winning the MAC White championship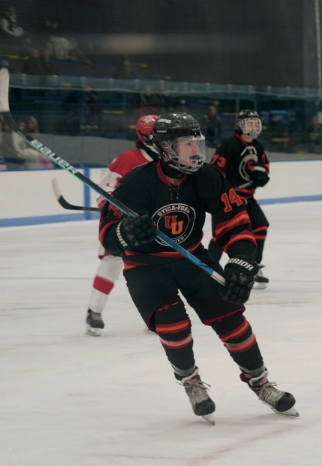 Hockey season is officially underway and Utica couldn't be more excited to support the team on the ice rink. The team, which is combined with Henry Ford II, is being handled by coach Evan Gizinski.
"We have been unified for four or five years now," Gizinski said. "We have a great dynamic this season and it's very hard to differentiate the Utica students from the Ford students."
The players are most excited for the support they will be getting from students.
"This season," senior Trevor Essenmacher said, "I am most looking forward to all the students showing up at the games."
With tryouts already done, the players got ready for their first game on Nov. 18, 2022. The team played Grosse Point North High School.
"It was a tough game, we scored first and within eight seconds our mindset was that we were going to win the game," junior Evan Lewis said, "we started to doubt ourselves towards the end with the score being 4-4, we became overconfident and ended up losing the game."
Although the team lost the game, they now know what to do differently to win future games.
"We have to work harder, not give up, stay together as a team," senior Austin Fertik said, "and play throughout the whole game."
If the team improves throughout the season, the players are hoping to win the MAC White.
"Our goal for this season," senior Alex Kopietz said, "is to win the MAC White championship."
This won't be the first time Utica wins the championship.
"Last season we shared the title with Marysville," Gizinski said, "so this season our hope is to win the MAC outright."
So far, the team is on track to securing the MAC with wins against Marysville, Grosse Point North, and more.
All nine hockey teams in the Macomb Area Conference are scheduled to play on January 17, 2023.
"Even if we don't win the MAC," junior Patrick VanHaeghe said, "we're all having fun and enjoying hockey together."
Utica-Ford United is set to play Anchor Bay on Dec. 13, 2022, L'anse Creuse on Dec. 17, 2022 and Romeo High School on Jan. 4, 2023.
The students at Utica can't wait to see the boys bring the MAC White championship home.