Wrestlers grapple, prepare for competition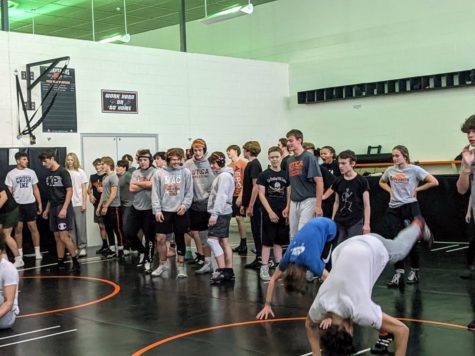 With wrestling season coming soon, "Practice is just getting underway." Says Coach Davis, "the team plans to compete in the MAC White division while looking for a league championship and looking to compete for a district title."
Practice has officially started on November 14th, the teams have been busy preparing themselves for this season. "A normal wrestling practice consists of a gymnastic type warm up with rolls, cartwheels, and dynamic stretching." wrestling coach Davis said, "This is followed by some drilling of wrestling movements. Later in practice we will most likely do some sparing and or conditioning. All throughout it is a pretty active two hours."
The wrestling team has two state ranked wrestlers, Bradley Mayse and Hunter Thomson
"With the number of participants this season, I am hoping that we can make a Varsity A, Varsity B, and JV squads. To be successful as a team in wrestling we need to fill in the 14 weight classes," coach David said. "If we leave one blank, that automatically gives the other team six points. I have some pretty high expectations of this year's team, we are senior heavy and have some pretty solid underclassmen."
There has been a great interest in wrestling this year, having additions like girls division or girls only tournaments will encourage more girls to try out wrestling, and increase the amounts of diversity in the sport.
"We have several returners looking to do well this year. Those include Bradley Mayse, Thad Kustarz, Nate Guty, Brysen Ealy, Hunter Thomson, Gabe Griffith, Dustin Gordon, and Ali Sparks, and I am sure there are a lot more I could add to the list, our team is all full of hard workers." coach Davis said
"I like to try to have wrestling as a no-cut sport and that's because we can find competition for everyone." coach Davis said.
Anyone is able to join the wrestling team if they wanted to, the coach does his best to make things feel fun and fair to everyone.
The MAC division is the team's regular season, everyone competes in a league, afterwards come the districts, and then regionals and states finals. Training is expected to continue up until the second week of February.
The coach is trying to get more female wrestlers on the team, the team currently has about five female wrestlers so far, he hopes that number could potentially increase. "We are currently weighing in and we are preparing for our first tournament. We are also doing live matches at practice to prepare," senior wrestler Ryan Kruckeberg said.
"We are currently learning new moves and doing live matches with our partners," wrestler Kase Filipowicz said, "and understanding how to do the match and teach the new wrestlers the point system high scoring moves and things that are more realistic in matches and are most likely to be executed."
"I wanted to be a champion, I am physically active." sophomore wrestler Dawson Page said. "My goal is to get more wins than losses."
With each season the team is picking up more and more determined rookies, that are ready to train their best in practice and do well in the ring. With many different people willing to try out wrestling, the community seems welcoming and open to newcomers who want to see if they'll enjoy or do well this sport.