STATE WINNERS
Yearbook, news staffs rack up 76 journalism awards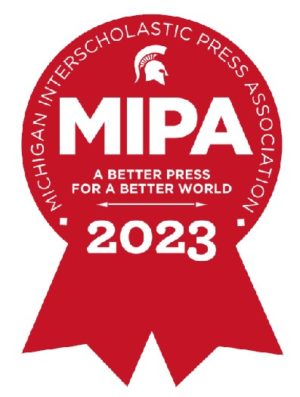 The Michigan Interscholastic Press Association received over 3,000 entries in this year's journalism awards, and Warrior yearbook staff and Arrow news staff earned 76 awards.
"I'm so proud of our staffs," adviser Stacy Smale said. "This is a school record for us; it's fabulous that so many of our publications students were recognized for their hard work. I attribute much of their success to the editors that pass along their skills year after year, and their ability to work as a team."
The news staff was judged on entries from their March 2022 issues and beyond, while the yearbook staff's 2022 publication was scored. Categories included writing, design and photography.
"I think it's incredible that our team won 76 awards, the highest amount of awards we've ever gotten," sophomore and first-year news reporter Yunans Youhana said. "I was surprised to get an award, but felt grateful for it."
Junior Ashlin Hurry was another first-year staff member to be recognized.
"Winning a MIPA award was very unexpected," Hurry said. "I am so proud of our Arrow team and all the work we do to put the newspaper issues together every month."
Senior Savannah Ruiz, this year's yearbook editor-in-chief, was recognized in several categories for her work on last year's book.
"I was very nervous for the awards to come up," editor-in-chief Savannah Ruiz said. "When I won first place for feature writing in student life, I was surprised because it wasn't my favorite writing piece in the book."
Some students found inspiration in their awards.
"It was a surprise to be honest," senior Bryan Orellana said. "When I joined this class, I didn't think there were competitions or awards, but finding out I won an award was very heartwarming. It made me want to do better with my last story before I leave Utica High."
Junior Gracie Wetherington, a news editor, is happy to add this year's awards to her resume.
"I was super excited to find out I won not only one award, but five," Wetherington said. "I think this class has really helped me grow, and my other editors have a great place in helping me win those awards, too. I'm super grateful for how these awards will look on college applications, and just my own personal achievements."
Photographer and yearbook managing editor Natalie Garwood won 27 individual awards.
"After working on our publications for the past two years, it was cool to get recognized for all of the work I put in," Garwood said. "We've always had such a great staff, and it's especially meaningful since we had such a small staff."
Whether they have been on the publications staff for one year, or three, student journalists know they must work together.
"I'm really proud of our staff and I feel so very accomplished. It feels like all of our hard work was well worth the time we spent on it," junior Arrow editors Loriana Mannino said. "I love being a part of a team as special as this one."
YEARBOOK VISUAL & VERBAL
Natalie Garwood & Miriana Toma
Alternative Story Form Presentation, HM
Marissa Barch & Nick Milicaj – Alternative Story Form Presentation, HM
Marissa Barch & Ashton Hill – Feature Presentation: Individual Spread, HM
Marissa Barch – Theme Development, 3rd Place
Marissa Barch – Cover, HM
Marissa Barch – Opening and Closing, HM
Marissa Barch – Division Pages, 3rd Place
Marissa Barch – Colophon, HM
Natalie Garwood – Business Advertisement, 3rd Place
Marissa Barch, Ethan Smale & Staff – Proud Parent Advertisements, 3rd Place
Natalie Garwood – Photo Illustration, HM
Natalie Garwood – Photo Illustration, 3rd Place
YEARBOOK VERBAL
Austin Lamphier – Feature Writing – Student Life, 3rd Place
Savannah Ruiz – Feature Writing – Student Life, 1st Place
Savannah Ruiz – Feature Writing – Academics, 3rd Place
Natalie Garwood – Feature Writing – Academics, 2nd Place
Natalie Garwood – Feature Writing – Organizations, HM
Natalie Garwood – Feature Writing – Organizations, 1st Place
Loriana Mannino – Feature Writing – Sports, HM
Nick Milicaj – Feature Writing – Sports, HM
Miriana Toma – Personality Profile, HM
Natalie Garwood – Personality Profile, 1st Place
Dani Cesario & Natalie Garwood – Caption Writing, HM
Natalie Garwood – Caption Writing, 2nd Place
YEARBOOK VISUAL
Natalie Garwood – Academics Spread, 2nd Place
Marissa Barch, Natalie Garwood & Chloe Larson – Organization Spread, HM
Natalie Garwood – Organization Spread, HM
Marissa Barch – People Spread, 3rd Place
Marissa Barch – People Spread, 1st Place
YEARBOOK PHOTOGRAPHY
Natalie Garwood – Sports Action Photo, HM
Natalie Garwood – Portrait or Personality Photo, HM
Natalie Garwood – Portrait or Personality Photo, 1st Place
Natalie Garwood – Performance Photo, HM
Natalie Garwood – School Spirit Photo, 3rd Place
Natalie Garwood – School Spirit Photo, 2nd Place
NEWS WRITING
Bryan Orellana – Follow-Up News Coverage, HM
Yunans Youhana – Follow-Up News Coverage, 3rd Place
Abby Williams – Breaking News Coverage, HM
Rosemary Hormoz – News Story, HM
April Alexander – News Brief, HM
Dana Brinker – News Analysis, 3rd Place
Abby Williams – Staff Editorial, HM
Abby Williams – Staff Editorial, HM
Tyler Watford – Bylined Opinion Article, HM
Gracie Wetherington – Bylined Opinion Article, 3rd Place
Ashlin Hurry & Bryan Orellana – Pro-Con Opinion Columns, HM
Ethan Smale & John Adkins – Pro-Con Opinion Columns, 1st Place
Abby Williams – Informative Feature, HM
Abby Williams – Human Interest Feature, HM
Abby Williams – Personal Narrative, 1st Place
Abby Williams – Personality Profile, 1st Place
Alex Schmidt – Environmental, Health or Science, HM
Gracie Wetherington – Environmental, Health or Science, 3rd Place
Ethan Smale – Alternative Story Form, HM
Abby Williams – Alternative Story Form, HM
Gracie Wetherington – Sports Feature Story, HM
Loriana Mannino – Sports Feature Story, HM
Tyler Watford – Sports News Story, 1st Place
NEWS ART AND ILLUSTRATION
Hannah Lesner – Editorial Cartoon, HM
Hannah Lesner – Editorial Cartoon, 1st Place
Ariana Garza – Illustration, HM
NEWS DESIGN AND GRAPHICS
Abby Williams – Information Graphic, 2nd Place
Gracie Wetherington – Information Graphic, 1st Place
Abby Williams & Natalie Garwood – Front Page – Newsmagazine Style, HM
Abby Williams & Hannah Lesner – Editorial Opinion Page, HM
Abby Williams & Hannah Lesner – Editorial Opinion Page, 3rd Place
Abby Williams – Feature Spread, 3rd Place
Gracie Wetherington – Feature Spread, 1st Place
Abby Williams – News Page, 2nd Place
Natalie Garwood, Austin Lamphier & Victoria Viglione – News Spread, 1st Place
Alex Schmidt, Ethan Smale & Victoria Viglione – Entertainment Page, HM
NEWS PHOTOGRAPHY
Natalie Garwood – Sports Feature Photo, 2nd Place
Natalie Garwood – Sports Action Photo, HM
Natalie Garwood – Sports Action Photo, 3rd Place
Natalie Garwood – Environmental Portrait, 2nd Place
DIGITAL MEDIA
Alex Schmidt, Abby Williams & Natalie Garwood – Multimedia Story Package, HM