Indoor athletes compete at nationals
Addison Johnson, Trent Mcfarland earn invite to New Balance indoor track and field competitions in Boston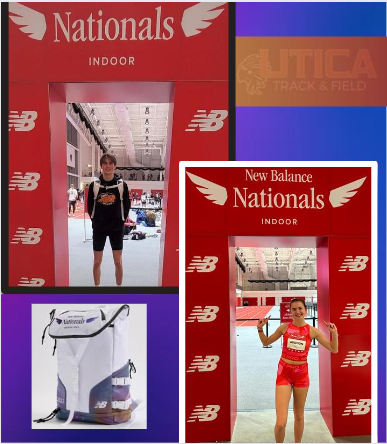 New Balance nationals was hosted in Boston, Massachusetts on March 9. Junior Addison Johnson participated in the two mile.
"To get into indoor nationals," Johnson said, "I ran a 11:22 full two mile and then 11:18 3200 meter to qualify."
Senior Trent McFarland competed in nationals' 800 meter race.
"I qualified for nationals by running a sub 1:58 time," McFarland said.
Nationals has a very different feel than a regular race.
"When I got to the starting line I was nervous," Johnson said, "but I just tried to remind myself to enjoy the atmosphere and try to be excited about it."
"At the line I was nervous," McFarland said.
McFarland was in a different atmosphere than usual.
"I was very uncomfortable with the fact that I didn't recognize anyone," McFarland said, "and I wasn't sure how the race would pan out."
Johnson raced well, considering it was her first national race.
"During my race I didn't really think anything," Johnson said. "I just knew it was time to go."
McFarland had an unusual start.
"I moved up very well after being tripped up in the start," McFarland said, "and I finished well, passing a couple runners in the last 100 meters.
McFarland placed very well in the 800 meter.
"I ran the championship 800 meter and got fifth in my heat," McFarland said, "34th out of all the 800 meter runners with a time of 1:55."
Johnson also placed well in the 3200 meter.
"I was third in my heat out of four," Johnson said, "and I ran 11:31 for the full 2 mile."
Johnson was really thankful to have supportive teammates.
"Everyone on my team supported me and made time to text me or tell me good luck," Johnson said. "Everyone supporting me just makes me really happy."
Before the race, coach Chris Scott gave some advice.
"He told me that I deserve to be there," Johnson said, "and to have fun and to take it one step at a time and just go for it."
Scott also made sure to be there for Johnson.
"One of my proudest moments was just that she got to travel and compete at this national competition," Scott said, "and held her own."