Garbarino breaks school record
While fans line the path, senior Gabe Garbarino crosses the finish line several seconds ahead of the next runner. A first place finish is nothing new for Garbarino, but with a 5k time of 15:53, he can now add a school record to his running resume.
On Friday, Sept. 23, Garbarino clocked Utica High's fastest time in a 5k race at the Cleaverly Meet at Anchor Bay. The previous school record, held by his brother, Paul, was 16:11.
"Everyone will remember where they were when Gabe broke the school record," senior Tyler Newton said. "The accomplishment he achieved should be an inspiration for everyone."
Coach Megan Berry credits Garbarino's dedication to his success.
"I can't give only one reason why I am proud of Gabe," Berry said. "He put in 500 miles over the summer. He has developed into a stellar captain and leads the team by setting the best example every day. He does everything a runner needs to do to go to the next level, at practice and on his own time."
With these big accomplishments early in the season, Garbarino said he stays motivated to keep improving and continuing his success at each cross country meet from both his coach and teammates.
"My teammates keep me motivated to continue on and improve at each meet," Garbarino said. "They are so supportive of me and help me grow as a runner."
A week before he broke the record, Garbarino was named MI Prepzone of Macomb player of the week. His name was mentioned in several online and print newspapers, like The Macomb Daily.
"It was weird, but cool, seeing my name and picture on different websites and newspapers," Garbarino said. "It is just another thing that keeps me motivated to continue running."
Last year, Garbarino competed at the state level, along with the rest of his team. With the support of his coach and teammates, he hopes to make a repeat appearance at states this year.
"I am in awe of his drive and passion for the sport," Berry said. "He is truly inspiring."
Leave a Comment
About the Writer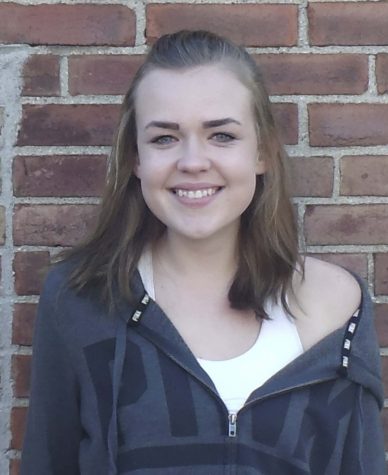 Camryn Smith, Editor
Camryn Smith is a senior at Utica High School and is the social media editor on the newspaper staff. She enjoys playing and petting dogs. She also enjoys...